Are you constantly wondering about what you will be making for breakfast every single morning? Or are you simply tired of ordering in all your meals every day? In any case, here is a giant list of tasty and healthy breakfast recipes that you can try out whenever you are feeling confused. These recipes are effortless to make and will be ready in almost no time. So, wake up, brush your teeth and march right into the kitchen and make yourself a delicious breakfast to kickstart the day! While you are at it, make sure you store these in a casserole that will retain the freshness and warmth of these dishes until you are ready to serve!
10 Everyday Healthy Breakfast Recipes
1. Uttapam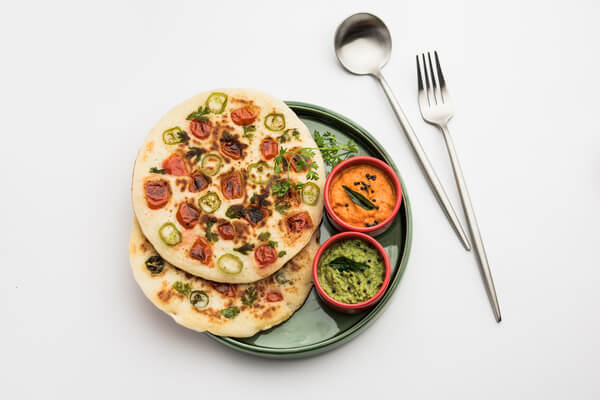 If you are tired of having steamed idlis for breakfast, then it is high time to tweak your plate a little bit. Just chop some vegetables and add them to your idli batter and give it a good mix. Then, heat a pan with some oil, and make pancakes using the batter. Fry it on both sides and serve it hot with some quick gunpowder chutney! Stack the uttapams in a casserole to keep them hot!
2. Malai Toast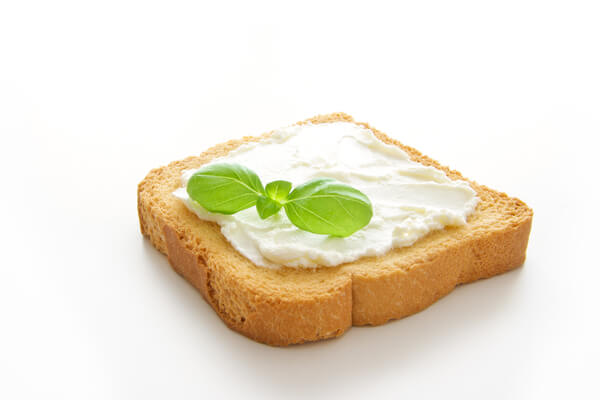 If you are feeling blue and miss your childhood days, then do not dwell on it anymore. Wake up, and take out four slices of bread, spread some malai on top and sprinkle some sugar. Toast them in a sandwich maker and enjoy! This treat will always bring a big smile to your face. You can also pack them in a hot case and send them to your friend!
3. Club Sandwich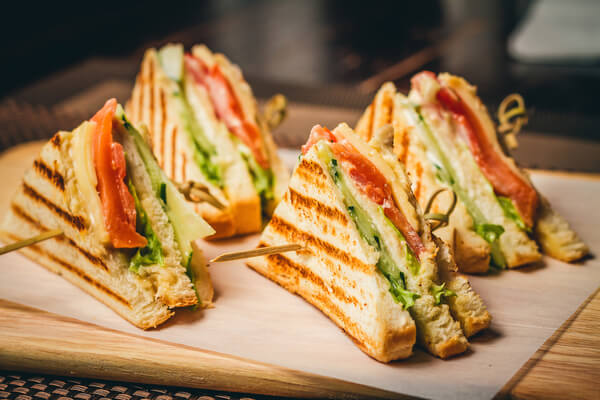 Sandwiches are super easy to make, but please don't add five layers of cheese early in the morning. To make it healthy, use three slices of multigrain bread, and add some lettuce leaves, followed by some tomatoes, cucumbers, olives, pickles and onions. You can probably add a little bit of low-fat mayo to make it creamier.
4. Lemon Oats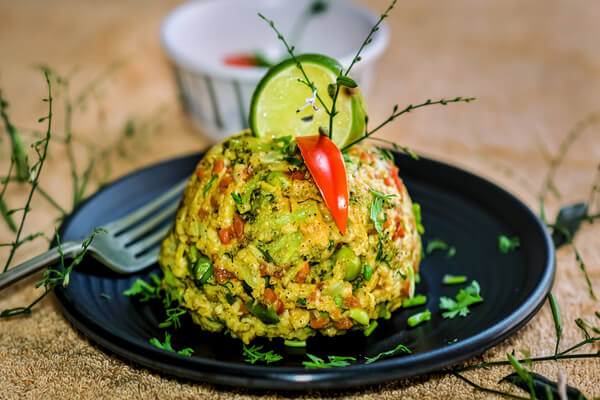 Oats is the newest addition to the healthy breakfast run. Add some oil into a pan followed by mustard seeds and curry leaves, let them splutter for a few minutes. You can add as many vegetables as you like and then fry them for a few minutes. Once they are slightly roasted, fry some oats and fill the pan with some water. At this moment, you can add your seasonings and some peanuts as well. When the water evaporates, squeeze some lemon juice and give it a final toss.
5. One-Pot Pasta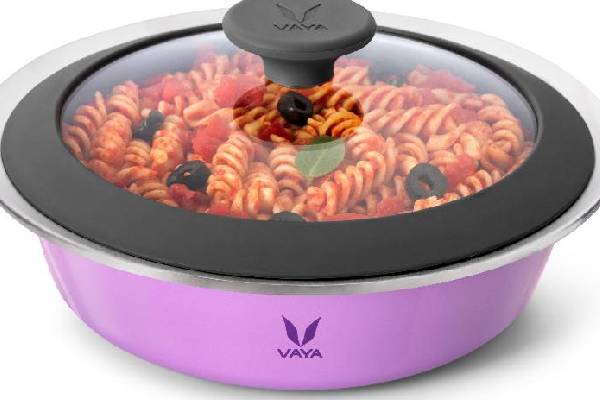 If you think that pasta is always lasagna or mac n cheese, then you are wrong. Pasta is literally that one tasty item wherein you can experiment to the fullest. Prepare some pasta sauce using tomato, onion, garlic and seasonings, then fill the pan with some water and add the pasta for a boil. Cover it with a lid, and let the pasta boil and cook itself.
6. Rice Pancake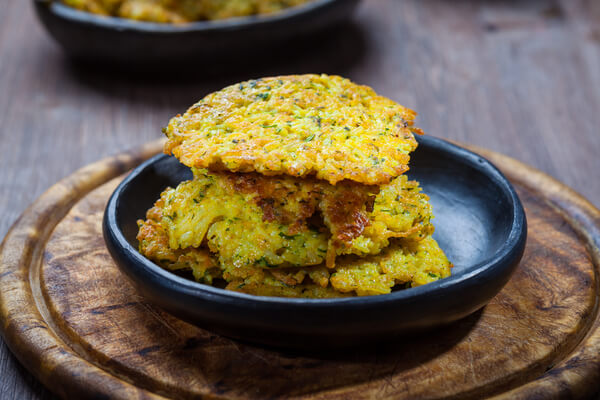 Soak a cup of uncooked rice and then create a fine paste using an electric blender. Once the paste is smooth and fine, chop some coriander, tomatoes and onions into it. Give it a good mix, and then follow the same steps as you do with the uttapam. Fry it and then serve. This dish is so tasty that you might not need a side dish. Although, a tomato sauce rescue is always an option.
7. French Toast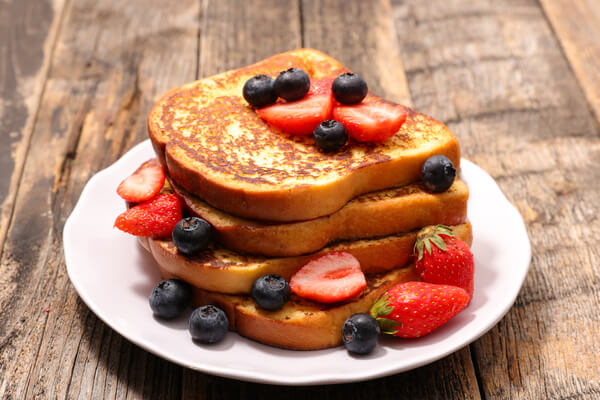 If you are looking for some comfort on a platter, then add some cinnamon powder in milk and then dip the bread slices for a while. Squeeze the excess milk and coat the bread with eggs. Add some oil in a pan, and then fry the bread slices till the raw smell of the eggs go away, and both sides are golden. Serve it hot and drizzle some maple syrup on top!
8. Strawberry Oatmeal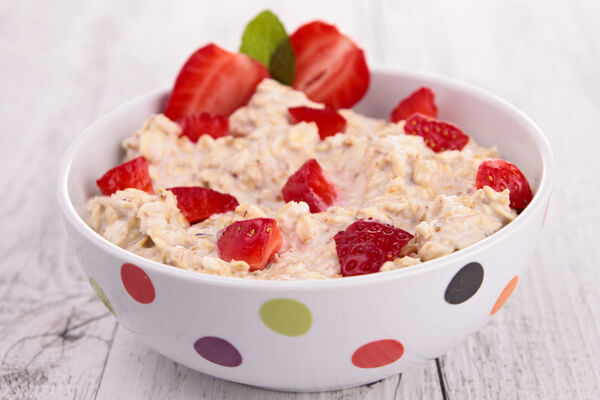 If you know that you will not have enough time in the morning to prepare a full-fledged breakfast, do not risk it and go with this recipe. This recipe needs time to sit overnight but needs no cooking or baking at all. In a jar, add some unflavoured clear yoghurt, oats, cinnamon, chia seeds, vanilla extract, and chopped strawberries. You can also add some chopped almonds on top for the crunch. Let it sit in the jar overnight, and you will have your strawberry oatmeal ready in almost zero effort. The only trick of this meal is time, and that can be very addictive because all you have to do is: combine the ingredients and let them rest!
9. Asian Quinoa Salad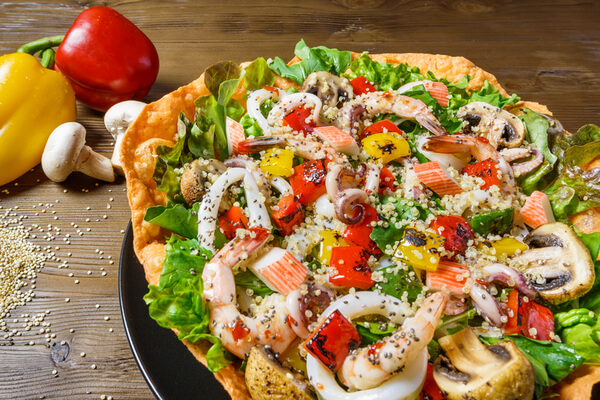 How about starting your day with plant protein and high fibres? Quinoa is packed with nutrients and is another super healthy breakfast option after oats. The best part is that you can make this salad and store it for at least four days in the refrigerator! Cook the quinoa as per the packet instructions. In another pan, prepare the sauce using peanut butter, sesame oil, ginger garlic powder, coconut milk, hoisin sauce, soy sauce, rice vinegar. Once the components are all ready, mix the quinoa, veggies, and the dressing in a big bowl.
10. English Breakfast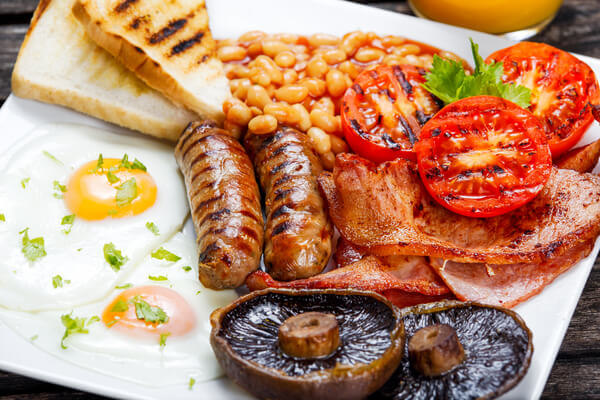 If you do not feel like doing anything at all, then just make sure that you are prepared with some sausages, salami, eggs, beans and bacon. Fry them or bake them and toast some bread with butter. Your protein-rich breakfast is ready in less than 10 minutes. Remember to have some juice along with it otherwise, the meal can turn out to be a little dry.
Final Words
These super healthy breakfast recipes will win you over and help you start the day just with the right amount of energy. Indeed, a tasty breakfast with high protein and less cholesterol which is light on the palette, will make you feel happy. The balance between the body, mind and soul is crucial before you dive into any kind of work, and that becomes even more important when you are just about to start the day! So, try out these recipes and don't forget to eat it warm, and if you have any leftovers, keep it in a casserole!