Introduction
If there is one thing that stands as the real comfort food, then it is the age old 'khichdi'. People from different communities have their own stories about khichdi and a different style of preparing the dish. But if there is one thing that binds people together about this dish is the ease of preparation. This dish is literally a lazy man's dream in a casserole. If you ever want to just sit back, relax, and have an aromatic meal with lots of taste, then you can just grab a bowl of khichdi and have the time of your life.
Khichi Recipes That You Will Love
1. Bengali Khichuri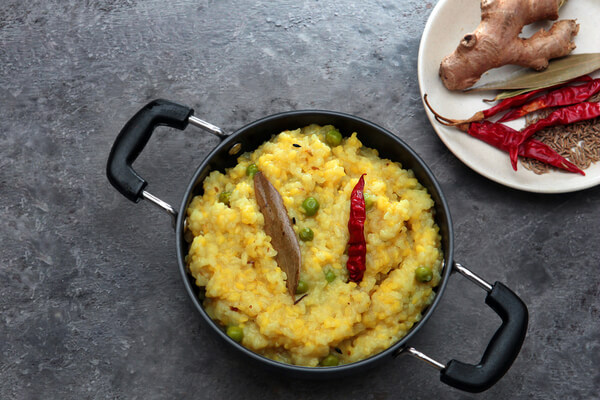 If you want to become friends instantly with a Bengali, tell them that your favourite food pairing in the world is "khichudi and beguni". The Bengali khichuri recipe finds its places in different times and days, often served as a 'bhog' to the deities, it also stands out as comfort food during the monsoon season. Dry roast some moong dal and keep it aside after washing it thoroughly with some water. Do the same for the rice. In a pan, add some ghee followed by cinnamon, bay leaves, cumin seeds, cardamom and cloves, saute them till they leave an aromatic smell. In the following steps, add ginger, red chilli powder, turmeric and saute for a few more minutes. Finally add the vegetables that you like, along with the rice and dal. Cover the pressure cover with enough water and let it cook for 2 whistles.
2. Oats Khichdi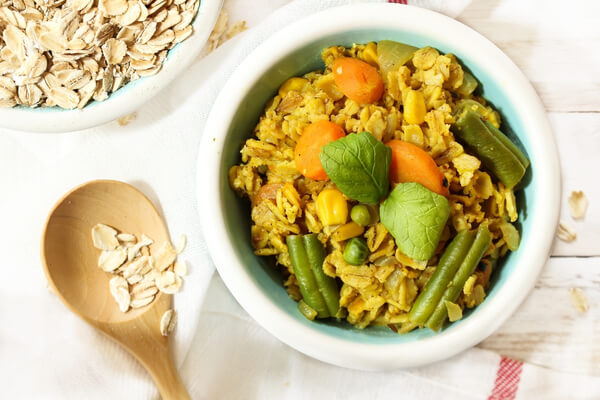 This recipe is pretty much the same apart from the rice bit and it is actually healthier than the rice khichdi. If you are running late on a day, and want to have a quick healthy and heavy meal before you leave, then this oats khichdi will work like magic for you. You will need to temper the 5 spices and the vegetables till they become pulpy, then add the roasted oats along with the dal that you like and cover it with a lid and let it stay on a medium flame for 7-8 minutes.
3. Dal Khichdi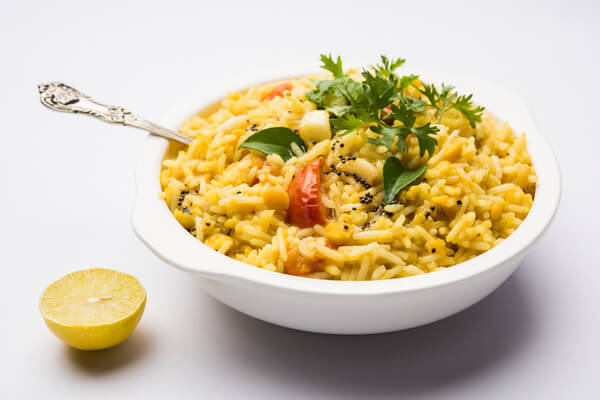 This is a medium spiced khichdi that can be made easily with the most basic ingredients that you have. Just drop ginger, tomatoes, onions in a pan along with some turmeric, cumin and red chilli powder, sautee them for a few minutes. You can add some soaked masoor dal into the pan along with some govind bhog rice. Cover the lid and let it look for 7-8 minutes.
4. Sabudana Khichdi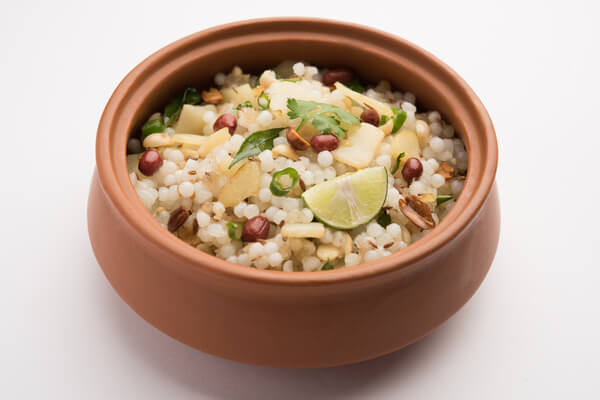 This khichdi mostly finds its way on the days of 'vrat' when people fast for a day in order to offer their prayers to the gods and the goddesses. Soak and rinse some sago in advance before you turn on the flame to add the spices – curry leaves, mustard, green chillies, peanuts and cumins. When the spices are done, you can also add some potatoes in it before you add sago. Mix everything well, and before you turn off the flame, sprinkle some coriander leaves and lemon juice.
5. Bhuni Khichdi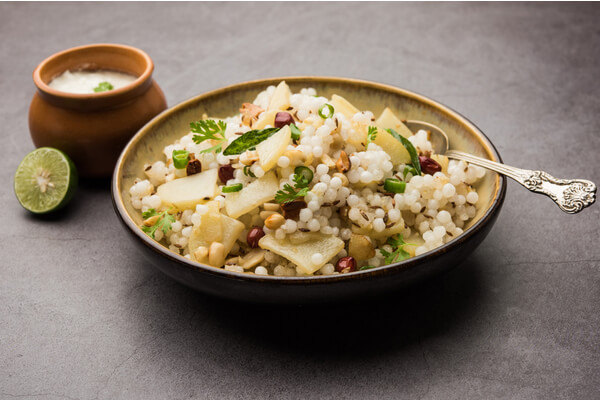 For this recipe, you will need some preparation and some time in hand before you turn on the flame. For a first-timer, this dish can be a little tricky but if the instructions are followed with due care, then this dish can be the best khichdi that you have ever had. Soak equal parts of lentils and rice and then roast them with a generous amount of ghee. Keep them aside once they are done. Make the masala using – ginger, chilli, cumin, turmeric and red chilli powder. Grind them and then add some coriander powder for an extra kick. Then start frying the vegetables and keep them on separate plates. Finally on a pan, add the whole spices followed by the masala paste, vegetables, rice and dal. Cook them for 10 minutes on a pan till everything is dry. You can also add some cashews and raisins.
6. Kolhapur Khichdi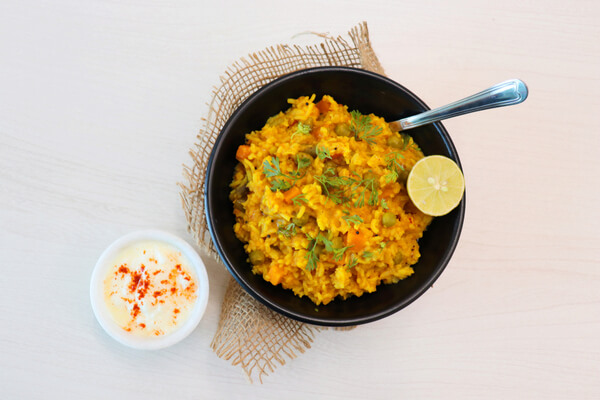 Soak tapioca pearls in water for an hour, then add some warm water, so that it becomes soft. Make a course masala paste using, peanuts, coconut, coriander, and green chilli. Fry some potatoes with black pepper, cumin, turmeric and then add the masala paste and tapioca pearls. Cook till the raw smell of the ingredients goes away. Serve it with some curd!
7. Fada Ni Khichdi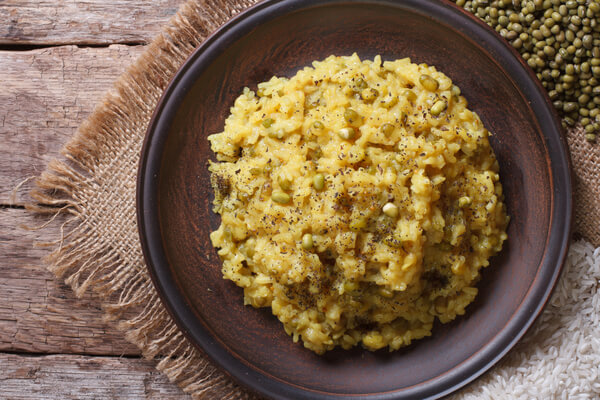 This Gujarati khichdi is all about the right spices, and broken wheat. In a pan, add ginger, chillies, clove, cinnamon, cardamom, hing and cumin. Then add the vegetables followed by dalia. You have to add water according to the consistency of the khichdi that you want! 2 cups for dry, 2-3 cups for slightly runny!
8. Palak Khichdi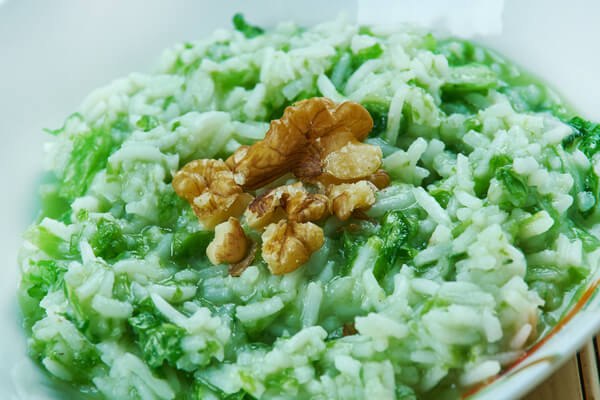 Spinach is rich in protein and vitamin A & C. It is super healthy for your family in terms of bone health and building immunity. Follow the same exact steps as any khichdi recipe of soaking, rinsing and tempering the spices. This time along with the vegetables add a cup of spinach puree. The khichdi will have a different green colour, unlike your regular yellow khichdi. You can also choose to add some cottage cheese or chicken accordingly.
9. Handi Khichdi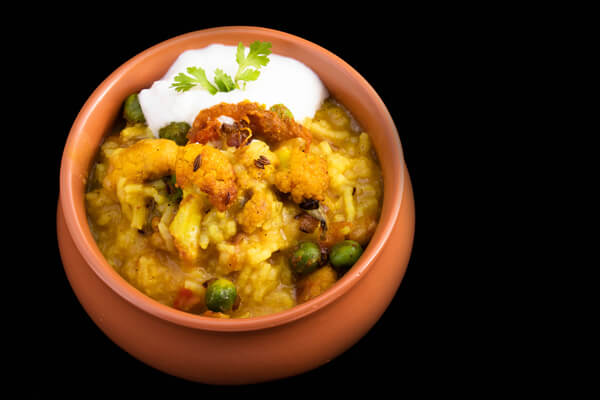 Prepare a mix of onion, coriander, cumin, ginger, turmeric, chilli powder, garlic. Then in a handi, add cinnamon, cloves, potato, cauliflower, peas, rice and dal followed by the spice mix. Add a good amount of water and cover the lid for 7-8 minutes on medium flame. This no-fuss khichdi recipe is the best alternative for the days when you do not want to cook an elaborate meal all by yourself.
10. Masala Khichdi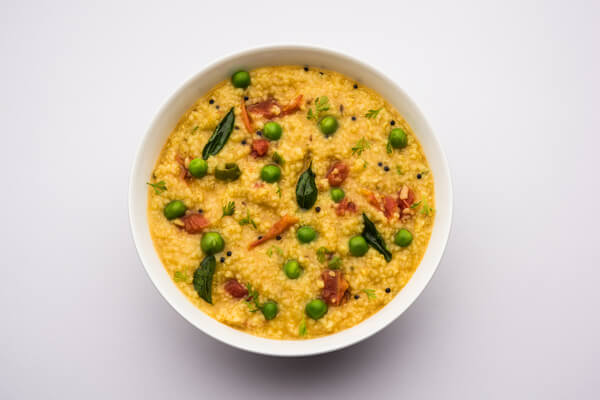 Masala Khichdi is everyone's innovation. Coming from the land of spices, every culture and every Indian state has its own set of spices that stand out, for the south, it is curry leaves and if you travel to the east, then maybe you will find some panch phoron. The masala khichdi is all about the combination of rice and dal cooked with anyone's favourite masalas.
Final Words
If you are ever having a bad day, then just bank on these khichdi recipes. There is always one khichdi recipe that is best suited for your mood. Most of these recipes are quite simple, as you just have to drop all the ingredients into a pot, and then cook everything together for a particular period of time. You cannot really go wrong with khichdi. The best part is that there is no right recipe for making a khichdi, you can just add all your favourite ingredients and the regular rice and dal! If you want to have the best taste of the khichdi, then you must store it in a casserole so that it is piping hot and bursting with flavours!