The dining room is a warm and happy place within your home. It is where the whole family gathers for delicious meals and it is where you can throw the most lavish of dinner parties! But for all of this to happen, you need to make sure that the décor is absolutely beautiful! Now, the décor does not only consist of the wallpaper and table setting, but also the curtains and the crockery like your favourite casserole or a set of glass bowls. All of these add to the aesthetics of the dining room. To make your dining room look even more stylish, you can follow the tips given below. 
What Are the Top 10 Ways to Improve Your Dining Room  Décor?
1. Stainless Steel Serveware
Minimalism will always be a trend. The best way to showcase it in your dining room is to use stainless steel serveware. The stainless steel gives an elegant and modern look to the serveware and it is a great way to keep food warm before serving. You can use stainless steel casseroles, serving jars, bowls and dishes.
2. Accent Wall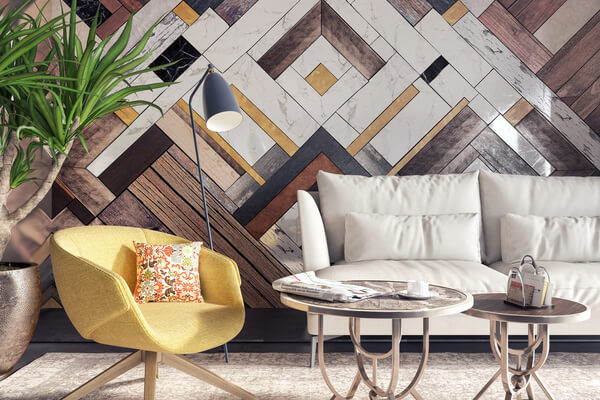 The colour or patterns of the walls can elevate the décor of the whole room. If the dining room is done up in neutral shades or even any single colour, it can look a bit dull. An accent wall will add some drama to the room! You can paint three walls in pastel or neutral shades and leave one wall for bold colours or accents. You can even add a wall with metallic paint or use a patterned wallpaper. Accent walls can make the whole room look more fun. 
3. Colourful Crockery And Cutlery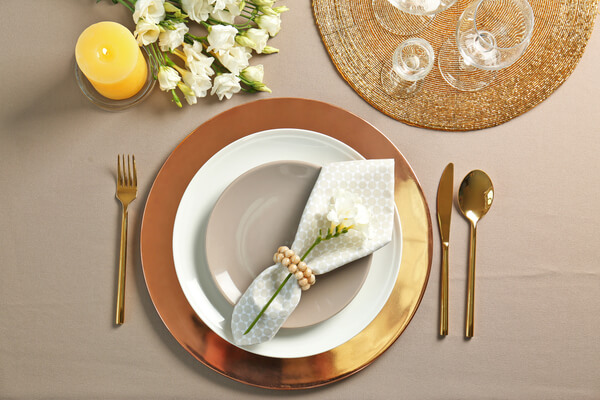 The dining room has to be functional while having a really stylish décor. You can do this by adding some quirky crockery and cutlery as tableware. If you have a larger table, arrange brightly coloured plates and bowls neatly. You can even use a brightly coloured casserole to serve food to your guests. You can mix and match the colours to give a vibrant look to the table. 
4. Statement Lights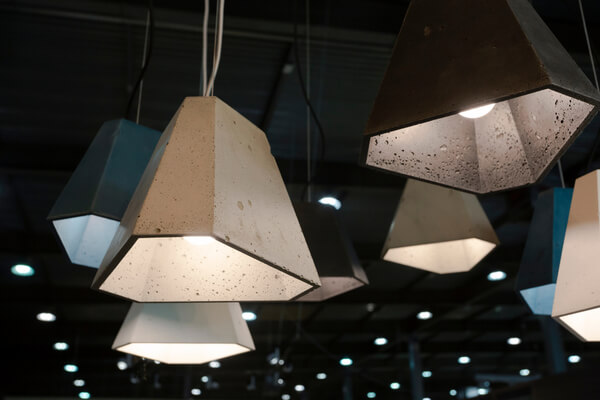 Your dining room needs to be well lit. If there is enough light in the room, your dinners will be really pleasant. You can add some statement lights just over the dining table. Use some large light fixtures in different shapes to hang from the ceiling. You can choose geometric light fixtures and even asymmetric shapes. If you place the lights at strategic points in the room, the whole space will look really bright and warm. 
5. Textured Or Patterned Drapes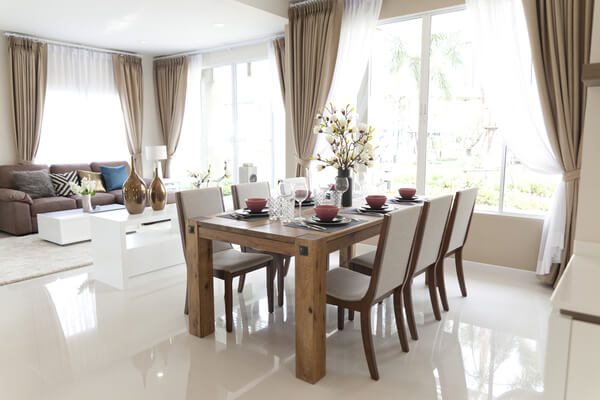 If you have large windows in your dining room, then you should get some drapes. Textured drapes look really great in the dining room and can be paired with any other décor in the room. You can match the colour of the drapes with that of the walls or upholstery. If you have patterned wallpapers, then you can choose a similar pattern for the drapes. They will not only look great but will also help to block out some light on a very bright afternoon when you sit down for lunch. 
6. Eye-Catching Centerpiece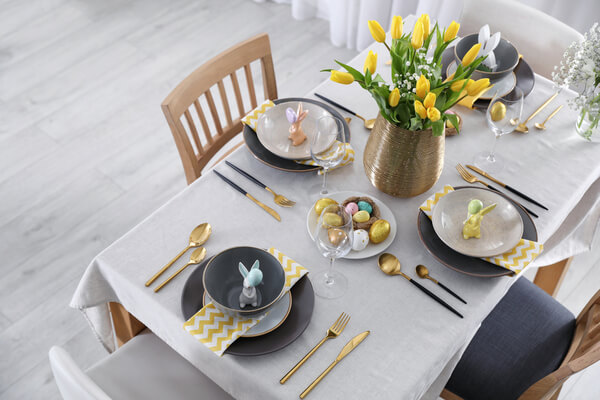 When you throw a dinner party, you have to make sure that the décor is impeccable. One of the best ways to do that is to create an amazing centerpiece for the table. You can use fresh flowers to create a stunning floral piece. You should make sure that while the centerpiece is eye-catching, it does not overwhelm the look of the table. To maintain the balance, you can use sleek serveware like a stainless steel casserole or glass dishes. 
7. Creative Photo Mural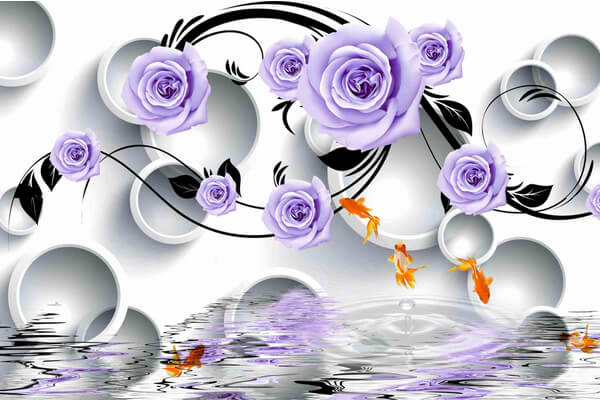 You might think that photo frames only belong on the living room or bedroom walls. But they can be used as a part of the décor in your dining room! Arrange your favourite photos in a mural and cover a wall with them. You can even choose a specific theme like holiday photos for this mural. It will be a great way to remember some happy moments and memories, while sharing a delicious meal with your family and friends. 
8. Layered Tablecloths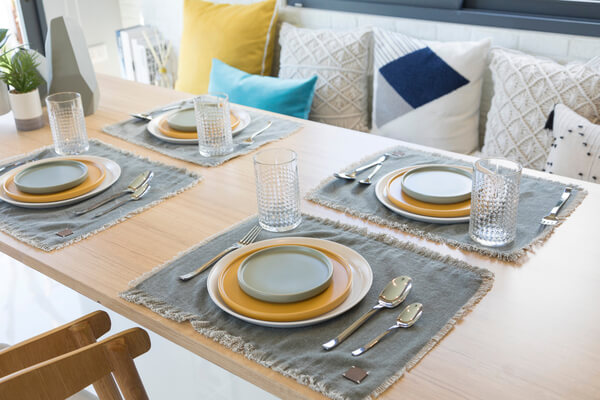 Placing a single, solid coloured or patterned tablecloth is traditional and does not do much for the décor. To make it stylish, you can use two tablecloths in contrasting colours. Layer them diagonally over each other, so that both the colours can be seen. You can also use a solid coloured tablecloth in the centre and then layer patterned or embroidered tablecloths over the side. You can place some stainless steel serving jars in the middle, if there is no centerpiece. This will allow the tablecloths to attract attention. 
9. Houseplants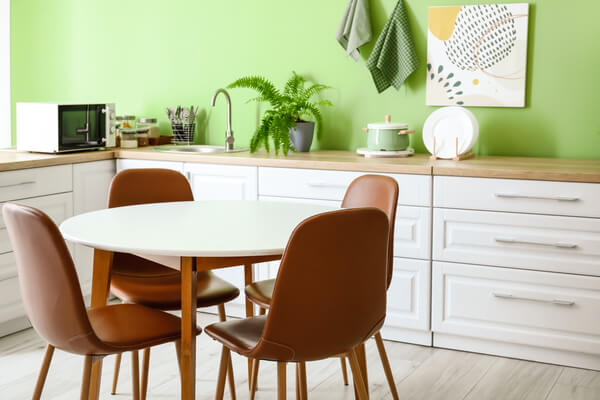 One of the biggest trends of this year is to bring the outside, inside. You can do this by keeping some houseplants. Choose houseplants that are easy to grow and maintain like bamboo, begonia, or even bird of paradise. You can also keep some potted herbs that can also be used to garnish dishes! Keeping houseplants will keep the dining room fresh and allow you to breathe in clean air at all times. 
10. Cozy Seating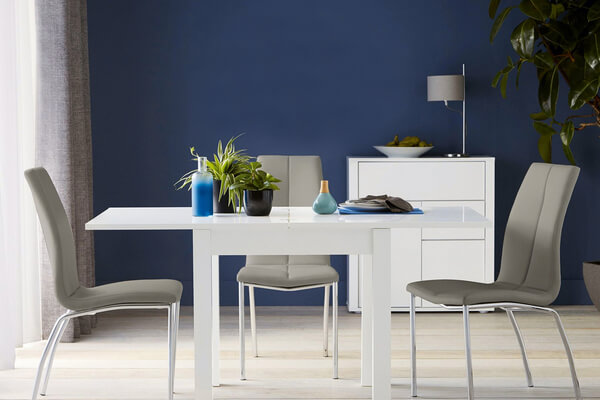 Proper sitting arrangements in a dining room is of utmost importance. It should be comfortable and spacious so that your guests can sit back and enjoy a hearty meal. You can remove a couple of chairs and add a bench to provide more space. Use soft fabrics for the upholstery like linen or cotton. Make sure to put in cushions so that you can sit comfortably for a long time. Even if you have a large dining table, arrange the seats neatly so that it looks really cozy but there is also some space in between. 
Final Words
Giving a more attractive look to your dining room is not very difficult. When you are buying serveware, make sure to get some that look delicate and aesthetic on the table. A stainless steel hot case, serving trays and dishes will add a very contemporary look. The upholstery of the room is another great way to make the décor stand out. If you plan ahead and have a clear picture of how you want your dining room to look, it will not take you too long to change it.