Mother's day is almost here, and all the mothers out there deserve lots of pampering and good food! And there is no better gift than cooking something for your mom this Mother's day! While no gourmet chef in this world can imitate the taste of your mom's homemade food, this Mother's day, let your food do all the talking.  Just like your mom's recipes, let it be simple yet satisfying, filled with the aroma of amazing flavors and unconditional love. Surprise her with something gastronomically delighting and see her eyes light up with happiness and adoration. You can get her breakfast on the bed or a lavish spresd of lunch and dinner for the special day. Store your freshly prepared dishes in a hot case or a casserole to keep them hot and fresh for hours. Here are few recipes to cook and surprise your mother this Mother's day. 
1. Malai Kofta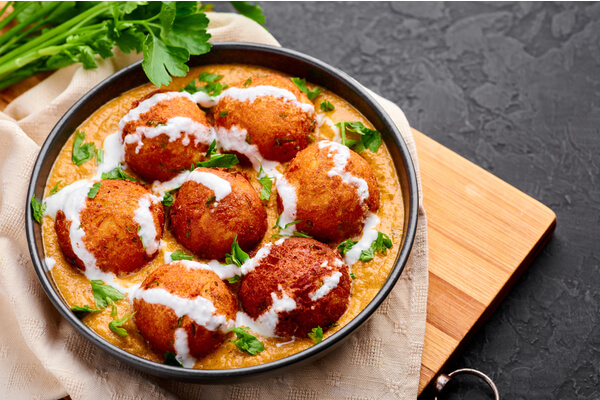 Rich and creamy, malai kofta is a great dish for all the vegetarians out there. A ladleful of this dish with some jeera rice or plain pulao is a match made in heaven! 
Boil the diced potatoes and veggies separately in water. Mash potatoes, cream, and paneer in a bowl. Add the spices and salt to make it into a dough. Roll the balls and insert the nuts. Fry the balls and prepare the gravy by frying the onions and grinding them with ginger, tomatoes, garlic, cumin, and spices. Add the nuts paste to the sauce and cook! Your dish is ready! 
2. Chicken Tikka Masala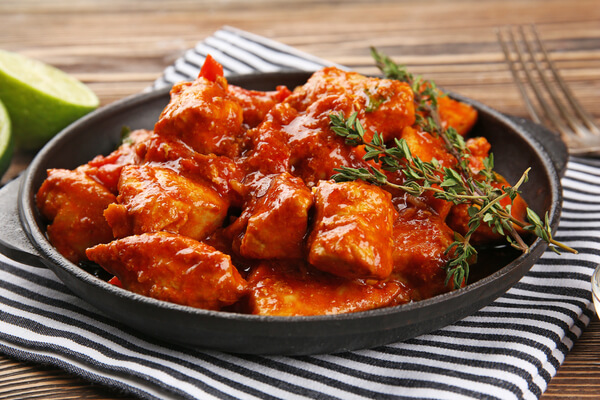 A combination of smokey, thick sauce with the tender chicken is all you will need to cook to you're your mother feel special. 
Grind all the veggies and masala ingredients into a smooth paste. Marinate the chicken overnight. Thread the pieces into the skewers and grill them in the oven. Fry onions, cardamoms, and garlic in the oil for the gravy, and then add tomatoes, sugar, spices, and almonds. Your chicken tikka is all set to be served to your mom. 
3. Palak Paneer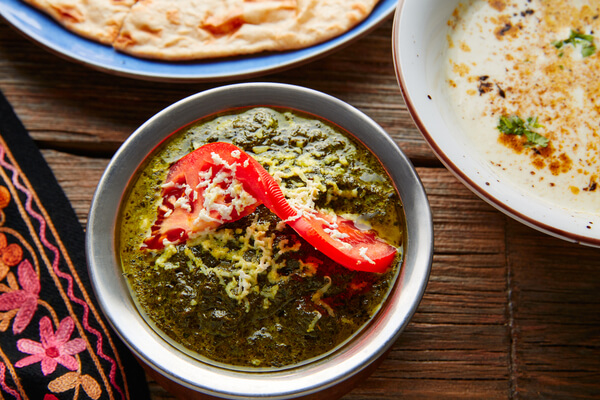 For vegetarians, palak paneer is the go-to recipe for every occasion. It is nutritious and every bit delicious. It is a perfect accompaniment to rich, spicy dishes! Serve them with hot parathas or butter naan. Although simple, your mom is bound to enjoy it. 
Grind and cook spinach leaves, tomatoes, fenugreek leaves along with spices. Add fried paneer cubes and cook a little bit more. If you are not keen on dairy products, you can use tofu or potato instead. 
4. Phirni
Mughals sure have left India with some amazing recipes. This mouth-watering, creamy rice pudding is one of them. It is sweet. It melts in your mouth with its surreal taste. After a ravishing main course, your mom will love to end it with this pudding!
Add the ground basmati rice to boiling milk. Add blanched and chopped pistachios, cardamom, sugar, and saffron, and cook until you see a thick consistency. Garnish and decorate with pistachios. Serve cold!
5. Kashmiri Rogan Josh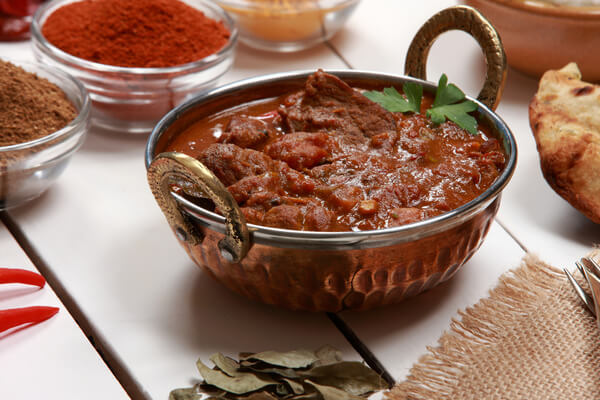 This rich, aromatic Mughlai dish is something your mom will be surprised to taste. It is all things royal and tasty. Serve this dish with some mild spiced pulao or biryani. It might be a little time-consuming, but it is worth it in the end.
Marinate the lamb is marinated in rich spices for a few hours before adding to a pan with whole spices. Add water for consistency and cook on low flame for a while. Season with garam masala and nutmeg. Garnish the dish with coriander leaves. Your mom is going for a second helping for sure. 
6. Malai Prawn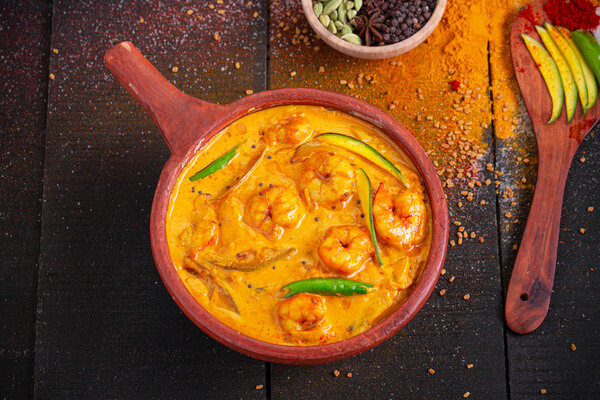 If your mom is a fan of seafood, then you have to try the malai prawn one out! This prawn recipe is bold and rich-flavored. The coconut milk gravy with the addition of spices makes it stand out. It is traditionally served with jeera rice. 
Grind onions, chilis, and tomatoes into a paste and fry this mixture along with ginger garlic paste. Bring coconut milk and the spices to a boil, and cook the shrimps in the sauce for a while. Add the cream and cook. Your malai prawn is ready!
7. Mughlai Biryani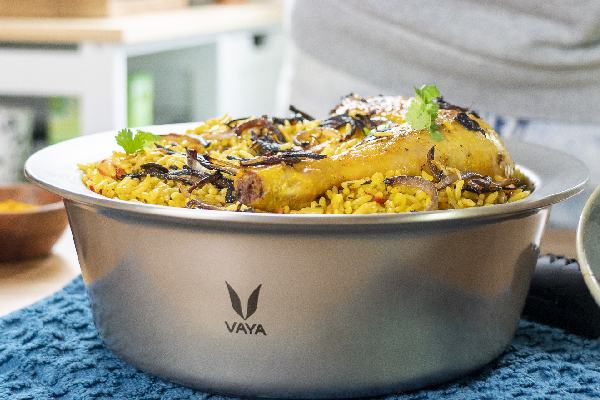 This north Indian biryani recipe is an excellent idea for this Mother's day. It is aromatic with rich flavors. It is a dish that can transport you into another world. Add nuts and fruits to add to the richness, and serve warm from a casserole.
Grind peeled almonds with ginger garlic paste. Boil and cook the rice partially. Fry onions till they caramelize. Fry cloves, peppercorns, cinnamon, and cardamom, along with another set of onion, ginger garlic paste, and spice powders. Add the lamb or chicken and cook for a while. Add some lime juice, stock, yogurt, salt, and mint leaves. Divide the rice into three portions with different coloring in each. Grease the baking dish layer the rice and meat evenly. Sprinkle caramelized onions on the top and cook. Serve with some raita or mildly spiced gravy.
8. Tandoori Chicken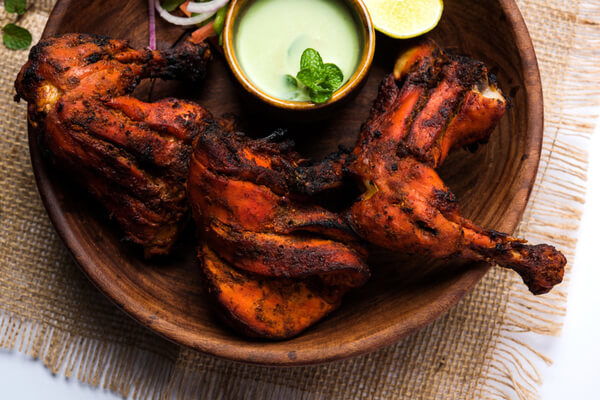 How about some tandoori for Mother's day dinner? Team it up with some fizzy drink for a fun night. It is an age-old dish and is traditionally cooked in the tandoor. The dish can be prepared on a grill or an oven too. Make sure you serve warm from a casserole.
Marinade the chicken with the tandoori masala for at least 12-18 hours. Grill the chicken and garnish with lime wedges and onion rings! Sprinkle some chaat masala added tanginess, and serve hot! 
9. Coconut Rice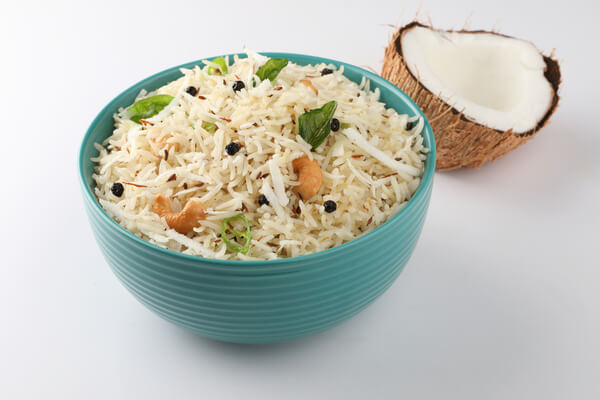 Coconut rice is a popular wholesome, and gloriously delicious south Indian pot recipe. Its taste is unmatchable when paired with raita and veg curry. Your mom is going to drool over this one! If you are a non-vegetarian, then you serve some chicken curry along with it.
Blend a half cup of grated or shredded coconut with 1 cup of water and strain it. Switch on the pot, add oil, whole spices, bay leaf, curry leaves, green chilies, and ginger-garlic paste. Add onions, and after they turn soft, add your choice of vegetables and cook for a few minutes. Add the coconut milk, basmati rice, water, and salt and stir well. Wait till it is cooked and serve hot with some raita! 
10. Shrikhand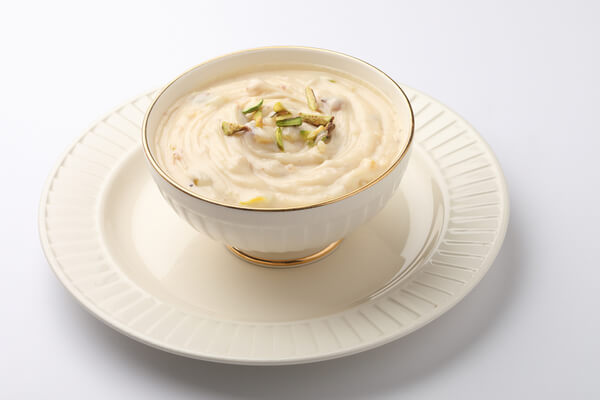 This mouth-watering dessert is prepared with curd, milk, and nuts. It is a lovely recipe to end the Mother's day lunch with. 
Infuse saffron in milk in a pan and boil. Add caster sugar, hung curd, and half of the infused milk in a bowl. Mix well. Add the remaining half of the infused milk. Add chopped almonds and pistachios and fold. Set in a bowl and garnish with almonds and pistachios. Refrigerate and serve cold. 
Even if you aren't the best of the cooks, these recipes are easy enough to make without missing out on the deliciousness and lavishness. So, put your cooking hat and apron on and get cooking!