No one can deny that the kitchen has slowly become the focal point of a modern home for the past few years. If you are looking to renovate it but worrying about budget and expense, you can put your worries to rest. Whether remodeling or renovating, use little tips and tricks to make your kitchen look like million bucks. It is all about the small details rather than the huge ones. Kitchen cabinets come in the same standard sizes. Although they're built boring, your little additions and tricks can bring them to life. Besides the cabinets, there are those little nooks and corners of your kitchen where you can make a huge impact too. It might be as small as switching your normal, basic serving bowls to something fancy like an insulated casserole or choosing one wall in your kitchen as a standout. Here are some sneaky tricks to make your kitchen look fancier.
1. It is all about the colors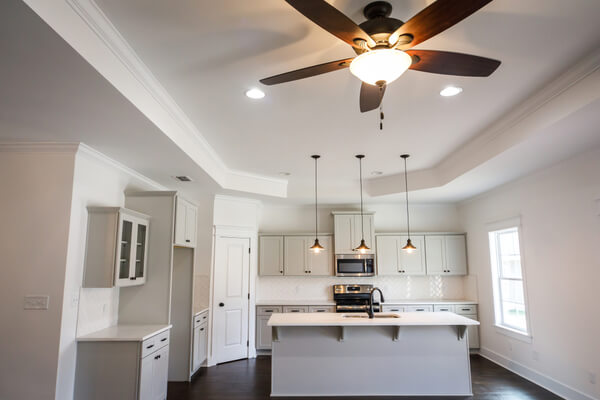 You can easily transform your kitchen completely with just a fresh coat of paint. Colors like beige and cream give your kitchen an elegant and expensive look. If you have a modern kitchen, it would be better to use dark colors, like greys and blacks. This will give it a lavish and extravagant look. The white reflects light, making space look bigger. Hence, complement white with some metallic and wood highlights. If you are not very keen on painting your entire kitchen, you can make a huge difference just by painting the kitchen cabinets. Also, a feature wall can be a great addition to your kitchen. You use textured wallpaper or paint it yourself.
2. Go Marble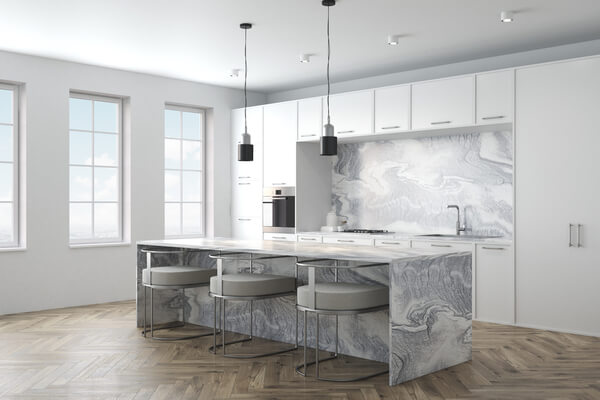 Everyone loves marble, and having it in the kitchen can be a great idea. It shows elegance and luxuriousness. But the trick is to introduce it in parts. So, instead of replacing all of your countertops with marble, you can just make a huge difference just by adding small hints in your kitchen. A cut piece of marble can be used to create a small baking area in the kitchen. You can also use marble tiles for an eye-catching backsplash or utilize them to alter a part of the floor. Marble works well with almost all color schemes, so a small touch of it here and there can make your kitchen design look lavish and expensive.
3. Let it light up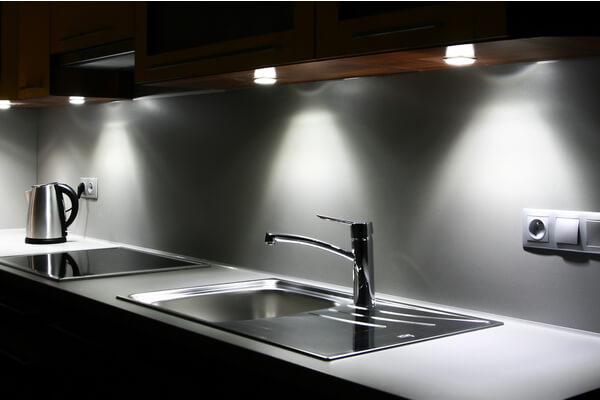 Lights are often the most ignored part of a kitchen design, although people tend to look up to the ceiling as soon as they enter a room. Using low-hanging fixtures can give the illusion of a higher ceiling, especially above dining spaces and kitchen islands. Globe fixtures are a perfect go-to for an inexpensive option to elevate the décor. Moreover, installing a dimmer is a cheaper option to make your kitchen look expensive. Dimming lights also instantly creates a luxurious look.
4. Choose the best serveware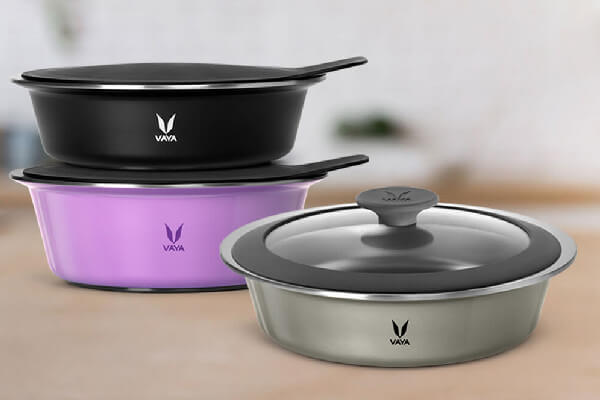 Your crockery can make a significant indication of the expensiveness of your kitchen. So, invest in new plates, glasses, cups, and bowls. Stemware, particularly, can make a wonderful impression. But new stemware does not have to be expensive to look expensive. It is also an excellent idea to display them in a glass cabinet or a cabinet with a glass door. Your kitchen this way can look a lot more inviting and luxurious. You can also bring in the latest designs in the casseroles, stainless steel jars, and serving bowls. Let your guests see your personality reflected in your cookware and serving-ware. 
5. Highlighters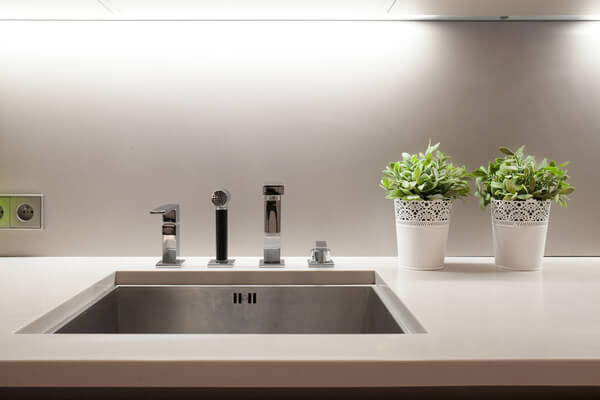 A highlight piece is bound to make your kitchen stand out, making it look like a lot of effort, money, and thought has gone into it. As a sink is an essential part of the kitchen, highlighting the sink could easily elevate your kitchen. A stone or copper sink might be a little costlier than a normal one, but it might be the only thing you will need to make your kitchen look classier than it is.
6. Update the Hardware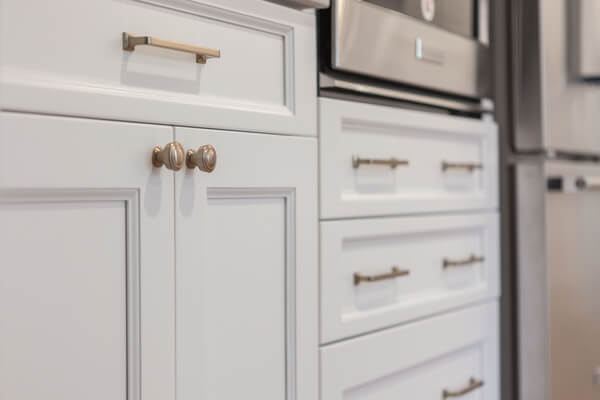 Take a moment and look at your knobs and handles. If they are showing age, then consider picking up a new set. You will be aghast by the amount of difference new hardware can bring in your kitchen. An old drawer can again look fresh with a clean, sleek handle. Even the sink fixtures like faucets are generally quite affordable and easy to replace for a quick renovation.
7. Add a Centerpiece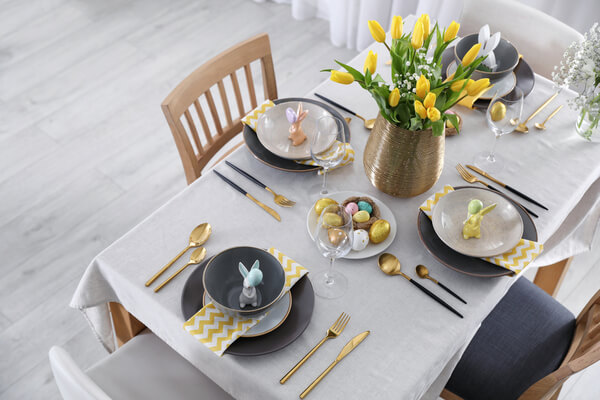 You don't have to wait for a dinner party to bring newness to your usual table setting. You can also make as small a change as arranging some fresh-cut flowers to make it seem like you've invested time and effort into the dinner table.
8. Paint Tired, Old Cabinets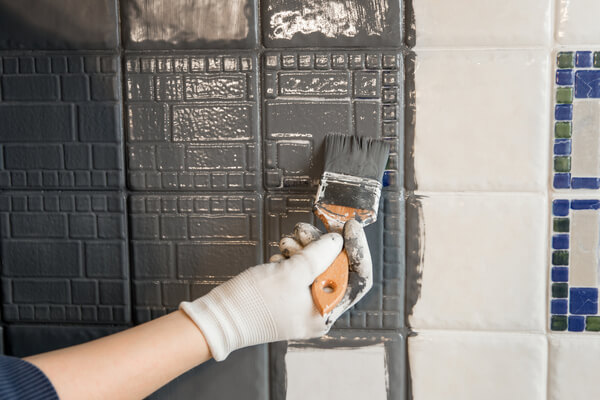 If you have unattractive, old, and dark kitchen cabinets, you might be stuck with them because you believe it is too expensive to replace them or don't know how to paint them. You will be surprised to know that painting old kitchen cabinets is not a daunting task. You can easily do the job yourself and enjoy it while you are at it. 
9. Feature Open Kitchen Shelves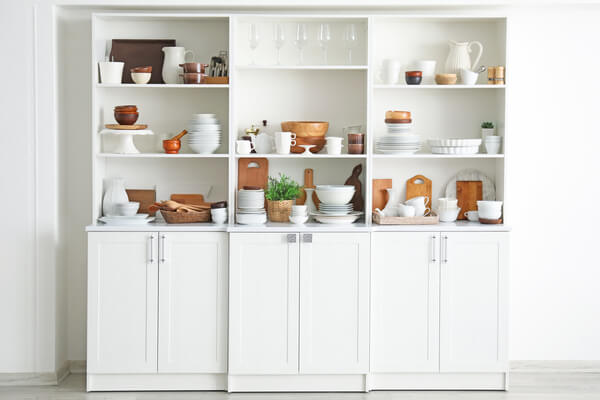 Showing off your dish collection with some open kitchen shelves is an excellent idea. The whole open-shelf home design trend can give you some storage variety at a smaller price tag than the whole traditional cabinetry. This is an excellent storage solution for rustic and modern kitchens.
10. Create a standout accent wall.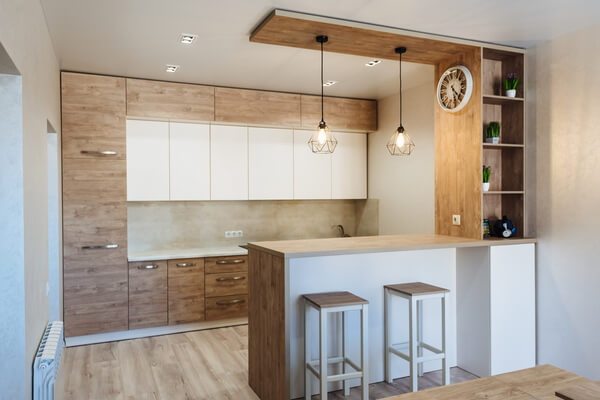 This amazing design trick is the epitome of an easy, no new fixtures, no heavy-lifting idea for a fancy kitchen look. All you need to do is select a bold wall color and pair it with some white cabinetry for an instant eye-catching, expensive look. It will instantly bring some life into the kitchen. The result is far better than the effort to get it done.
Conclusion
Your kitchen is your personal space, somewhere you prepare food for yourself and the rest of the family. It should look personalized, beautiful, and eye-catching, to say the very least. Let go of the belief that your kitchen is the most expensive room to redecorate and renovate. Through these tips, achieving a high-end look is easy and doable. So, get started and have your kitchen looking amazing in no time!