Your immune system is the first line of defense when it comes to fighting infections and diseases. So, you need to take care of it. The best way to do that is to eat the right kind of food. There are many fruits, vegetables, and other foods that are rich sources of nutrients and can help to build better immunity. Use some of these to create a delicious dish and fill up a serving bowl. Take a look at the foods listed below that are powerhouses for essential vitamins, minerals, and antioxidants and create the best meals.
What Are The Best Immunity-Boosting Foods?
1. Warm Milk With Turmeric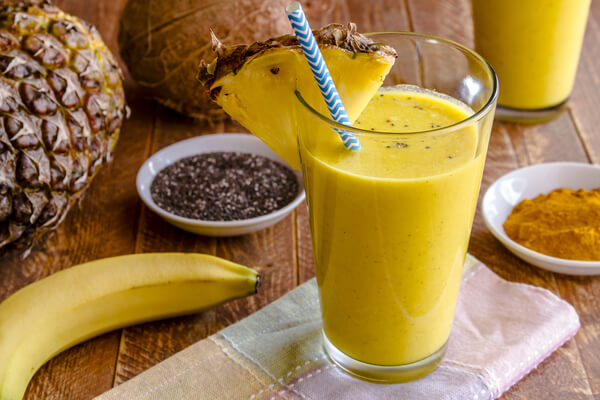 This is an easy drink that you can have before going to bed at night. All you need to do is warm some milk and add a spoonful of turmeric powder. You can also add some honey to sweeten it, but avoid using sugar. Turmeric has curcumin which is known for its antioxidant properties. Turmeric also has antibacterial and antifungal properties and it helps to lower the risk of infections. Warm milk with turmeric can also reduce inflammation caused due to chronic illnesses like Alzheimer's, heart disease, or metabolic syndrome. You can sip on turmeric milk from an insulated tumbler while you work from home or choose to drink it before you go to bed.
2. Chicken Noodle Soup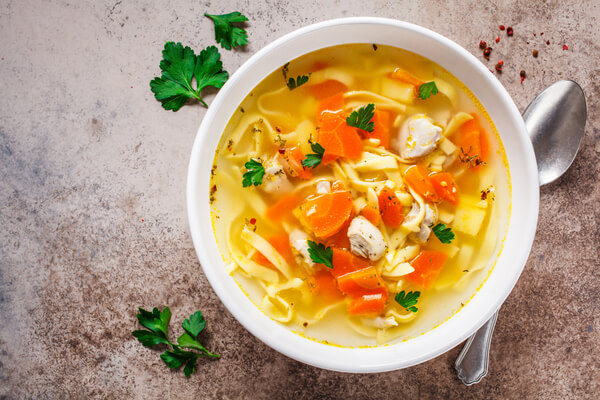 Chicken noodle soup is the ultimate comfort food during a cold. To make the best chicken noodle soup, add spices and aromatics like garlic, turmeric, and ginger and load up on vegetables like carrots, peas, green beans, bell peppers, and onions. Beta carotene in carrots helps to reduce respiratory infections, while the aromatics make the soup anti-inflammatory. Ladle the soup onto a serving bowl from an insulated casserole and enjoy it for dinner. Chicken is high in protein and a hearty bowl of hot chicken noodle soup will help get rid of nasal congestion and cough.
3. Whole Grain Flatbreads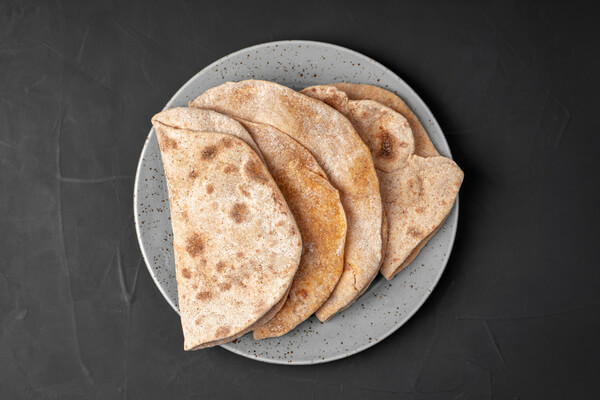 Whole grains like wheat, oats, and barley are rich in antioxidants. They contain selenium, vitamin A, vitamin C, and vitamin E. Whole grains also contain zinc. These nutrients reduce cardiovascular risks and can prevent colon cancer and type 2 diabetes. The easiest way to incorporate whole grains into your diet is to make flatbreads with whole grain flour. These flatbreads will be delicious and healthy, and you can eat them with your favorite side dishes or curries. If you have many dishes to cook, you can store the flatbreads in a hot case to keep them fresh till it is time to serve. 
4. Pickled Green Garlic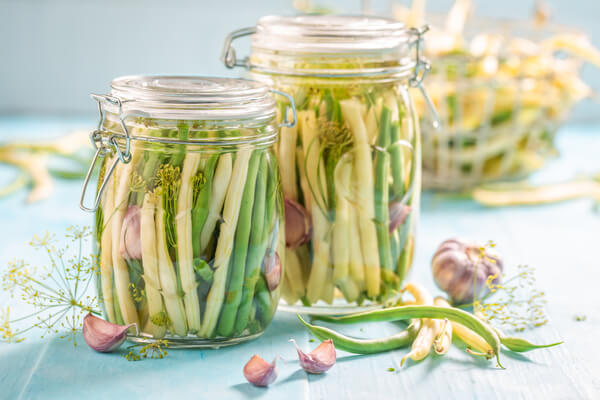 Green garlic is young garlic that still has the shoots attached. It has antiseptic properties and is antibacterial. To make pickled green garlic, boil a mixture of white vinegar and sugar, and salt and stir in the chopped garlic. Let it simmer for a while and then pour the pickle juice with garlic into stainless steel food storage containers. You can add some chili flakes to the containers. Keep the containers in the refrigerator and enjoy the pickle with your favorite dishes. Pickled green garlic will help the body to strengthen its immune system and resist viral infections.
5. Spiced Tea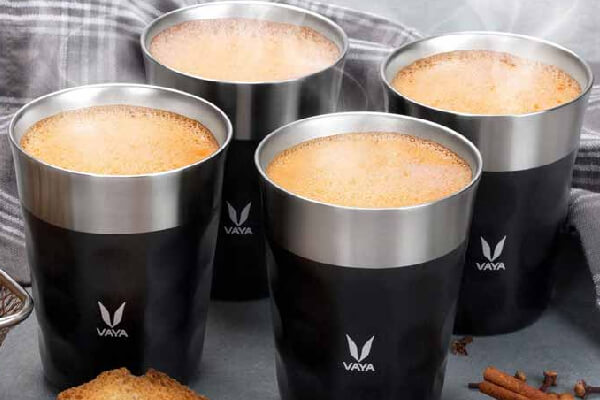 The tea itself is an immunity booster as it contains antioxidants. If you make spiced tea with cinnamon, cardamom ginger, ginseng, basil, and cloves, then the number of nutrients like magnesium, vitamin B, vitamin C, carotene, and potassium will increase. Such a brew will reduce the risk of flu and other infections. You can sip this tea from an insulated tumbler, and feel good.
6. Tomato Soup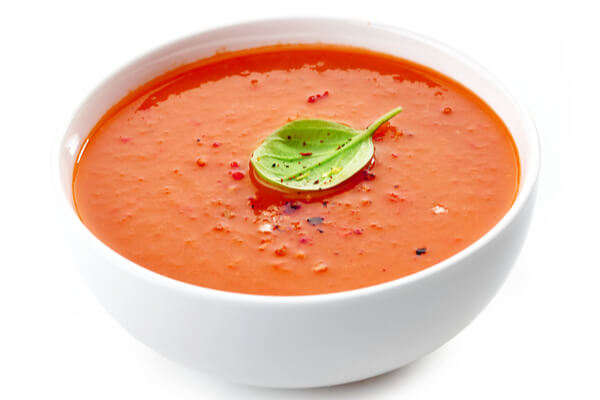 Tomatoes are a source of vitamin C, vitamin E, and lycopene, and help to repair and strengthen immune cells. All you need to do is sauté some chopped onions and tomatoes in butter and then add warm water to make the broth. Use fresh tomatoes to get the most flavor and let the broth simmer for about half an hour.  Season with salt and pepper and after taking it off the heat, use an immersion blender to make the soup creamy. Keep the soup hot in a casserole and have it for dinner with some toasted whole wheat bread.
7. Greek Yogurt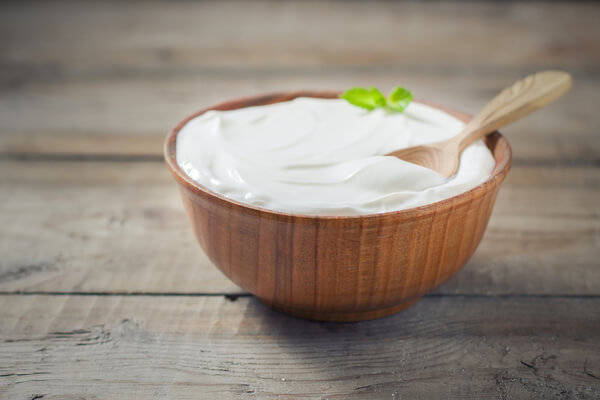 Greek yogurt is one of the best foods to help boost your immune system. You can use Greek yogurt as a salad dressing, a base for breakfast smoothies, with flatbreads, with fresh fruits, or even as a dipping sauce. It contains good bacteria known as probiotics that can build immunity and prevent stomach infections like diarrhea.
8. Ghee In Rice And Curries
Ghee contains butyrate and therefore, is a great condiment to strengthen the immune system. It particularly helps to regulate the condition of your gut and keeps it healthy. Its antiviral properties come from the concentration of fatty acids and butyric acids. You can make some rice and keep it in a hot case, and enjoy it with a spoonful of ghee during lunch. Ghee can also be added to all kinds of curries as a healthier substitute for refined oil. 
9. Gooseberry Juice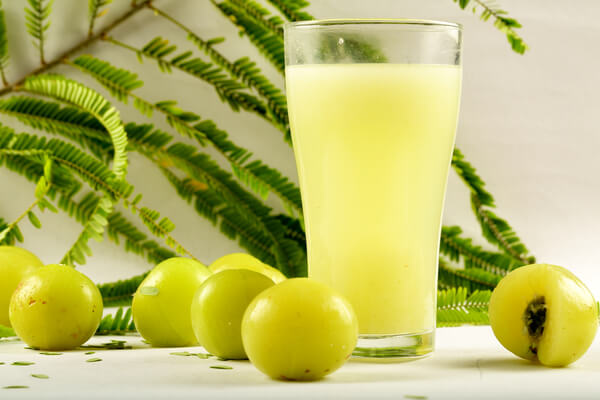 The Indian gooseberry is a rich source of vitamin C and polyphenols. Vitamin C boosts the immune system and regulates metabolism. This is why it can prevent most bacterial infections. The polyphenols present in gooseberry helps to prevent the growth of cancer cells. You can prepare gooseberry juice by making a paste of fresh gooseberries, black pepper, ginger, and salt, and then mixing that with some cold water. Gooseberry juice does not taste too good so you can add some lemon juice and sugar to enhance the taste. You can drink gooseberry juice every day to get the maximum benefits. 
10. Sauteed Broccoli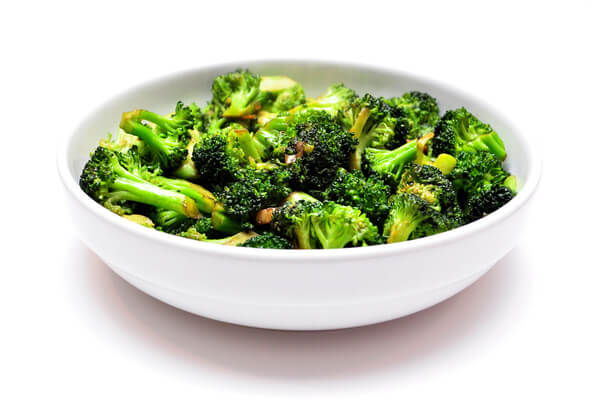 Broccoli can be best described as a superfood. It contains folic acid, vitamin A, vitamin C, vitamin K, and vitamin E. Broccoli is also a source of selenium, iron, calcium, potassium, and magnesium. Sautéed broccoli is a delicious dish that you can eat for lunch or dinner. You can sauté broccoli florets in olive oil with some garlic. Store it in a casserole till it is time to eat. This dish will lower cholesterol levels, control blood sugar levels and help to prevent cardiovascular disorders, heart disease, and diabetes.
Final Words
Healthy eating habits are important and you should incorporate at least one immunity-boosting dish or food in every meal. If you are too busy to cook every day, plan your meals and store foods in stainless steel food storage containers. Your meals will still be fresh and will retain nutritional values. Such healthy meals every day will keep you fit and reduce the risk of most infections and diseases.