A good diet needs to be diverse, vitaminized, with proteins, fats, and carbohydrates well within reasonable limits. A healthy kidney diet is built on the rule: carbohydrates are the basis of nutrition, and proteins and fats need to be restricted. The most important point is to restrict salt and all products that are made with it since salt detains fluids in the body. It is essential not only to control the foods but also the way of eating. Only an integrated approach like this can help you prevent mistakes.
A kidney-friendly diet includes the usual limitations of spices, spicy foods, and alcohol and the limitation of the quantity of protein in your food. The decrease in protein in the diet for kidneys can lead to an improvement in your well-being. At the same time, allow some sources of protein, like eggs, low-fat meat, poultry, and fish. The amount of these foods in your regular menu will be prescribed by the attending physician. Meanwhile, here are some kidney-friendly recipes you can cook at home.
1. Banana-Apple Smoothie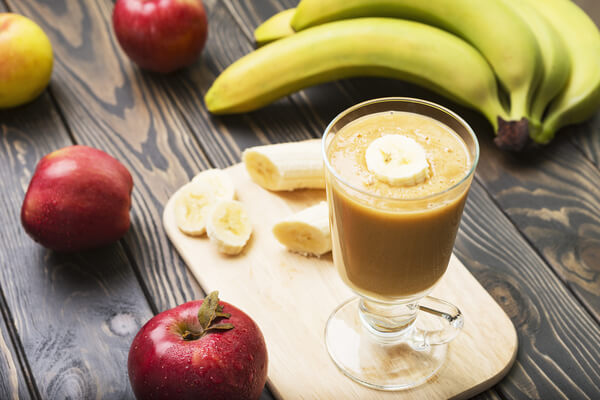 This can indeed be an excellent way to start your breakfast. You can also use this as a dessert for dinner time. It is low in phosphorus and sodium and high in potassium and protein. It is a quick treat or on-the-go breakfast. Add banana, applesauce, yogurt, milk, and honey in a blender. Blend until smooth. Add oat bran and blend until thick. Pour in an insulated tumbler and add ice.
2. Forty Seconds Omelet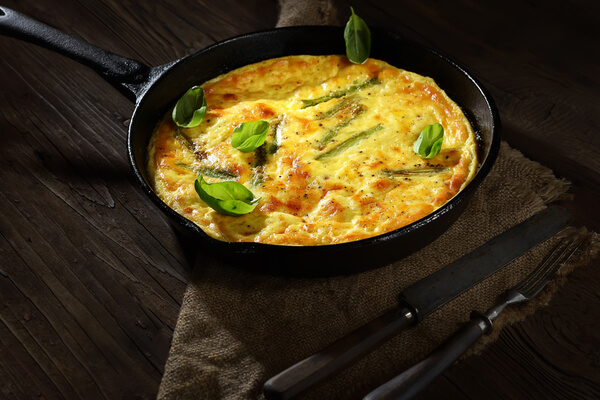 This is a perfect recipe idea for breakfast as it is low in phosphorus, potassium, and sodium and high in protein. Beat the eggs together and add water until blended. In an omelet pan or fry pan, heat butter and pour in the egg mixture. Carefully bring portions at edges toward the center. Add chopped vegetables, meat, or seafood if desired. Fold the omelet in half and serve warm from a casserole.
3. Banana Oat Shake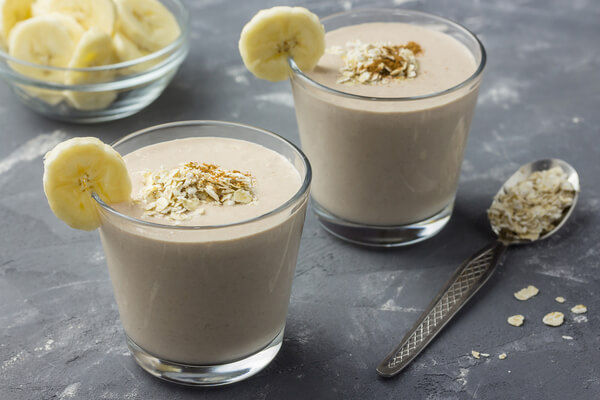 This is yet another great idea for breakfast for vegetarians. It is high in potassium and protein and low in sodium. It is an easy breakfast idea for the times you don't have much time in the morning. Add oatmeal to a blender and blend for a couple of minutes. Add wheat germ, milk, brown sugar, vanilla, and banana. Blend until you get a thick and smooth consistency. Add ice to an insulated tumbler and pour the oats shake.
4. Baked Potato Soup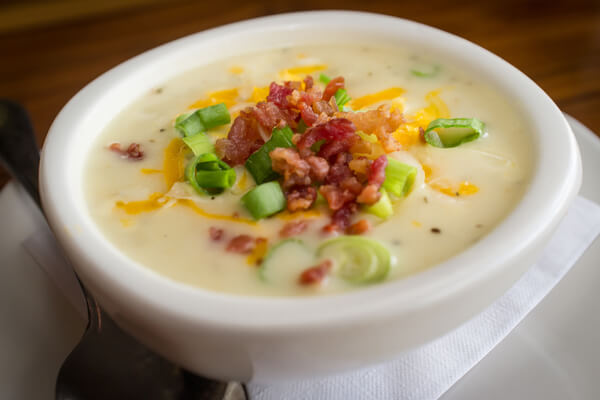 You can serve this recipe for dinner or lunch. This soup is another great idea for vegetarians. It is high in potassium and protein and low in sodium. This soup is all things delicious and is like all the baked potato goodness in a bowl. Boil the potatoes until fork tender and allow them to cool. Cut them lengthwise and scoop out the pulp. Add flour to a large saucepan and some milk gradually, and stir until blended. Add the potato pulp and some pepper. Let it cook over medium heat until it turns thick and bubbly. Add some cheese and keep stirring until the cheese melts. Switch off the heat and stir it in sour cream.
5. Broccoli Chicken Casserole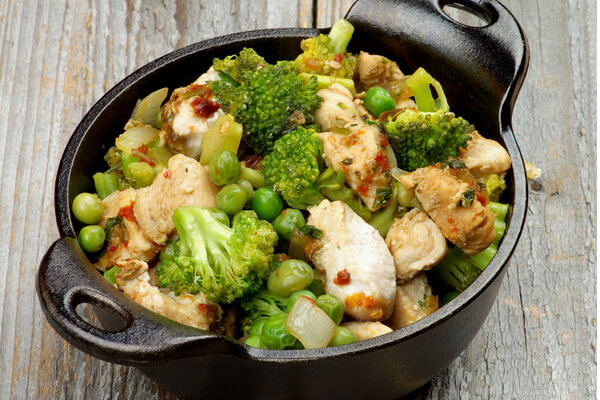 It is a great idea for dinner as it is low in phosphorus, potassium and sodium, and high in protein. This recipe is all about preparing your own cream sauce instead of using canned soup as it lowers the sodium levels in this comfort food. Preheat the oven and add broccoli to a microwavable bowl. Cover the broccoli with plastic wrap and microwave until it turns bright green. Meanwhile, add brown onion, chicken, butter to a pan. Mix all the ingredients and put in greased casserole dish. Sprinkle some grated parmesan and bake for a while till it sets and the fork comes out clean when pierced.
6. Carrot Muffins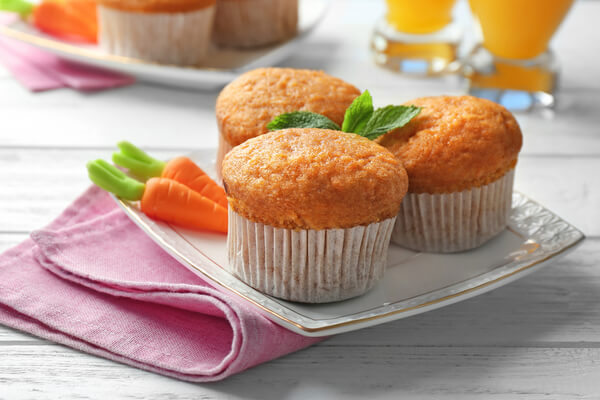 It is a perfect dessert recipe for anyone suffering from kidney issues as it is low in phosphorus and protein. It is better to use salt-free versions of baking soda & baking powder as it can reduce sodium levels. Preheat the oven to 350 degrees. Coat the muffin tins slightly with oil or nonstick spray. Mix the dry ingredients in a large bowl. Also, mix wet ingredients with a fork or whisk in a medium-sized bowl. Stir the wet ingredients with dry ingredients until they blend well. Add the shredded carrots. Fill the muffin tins evenly with batter and bake for 20 minutes.
7. Chicken Lasagna With White Sauce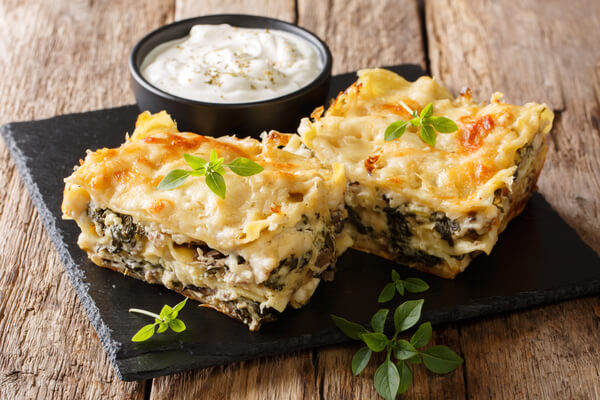 This chicken lasagna is a great dinner recipe. It contains low amounts of phosphorus, potassium and sodium and a high amount of protein. It is also a great way of using up leftover chicken. You can make it your own by adding different vegetables to the layers. Preheat the oven and add the chicken and broth to a small pot and bring to boil. Reduce the heat to simmer until the chicken is white and completely cooked. Add olive oil, onion, oregano, and black pepper to a large pan and saute until the onion begins to soften. Add mushrooms. Sprinkle the flour and allow it to cook for a few minutes. Add cream cheese and stir again. Slowly add mocha mix, nutmeg and parmesan cheese to the pan. Remove chicken from pot and shred chicken apart. Place the lasagna sheets into the pan, and top with sauce, then the chicken and zucchini pieces. Repeat the layers again, topping it off with the remaining sauce. Cover in foil and place it in the oven.
8. Chinese Chicken Salad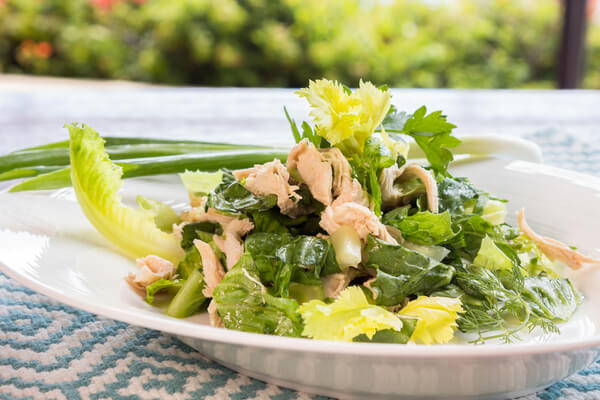 This Chinese chicken salad is a great recipe lunch idea. It is low in sodium and phosphorus and high in potassium and protein. The ramen noodles are the foundation for this salad. You can ditch the flavor packet in favor of your own ingredients. But, be sure to use plain rice vinegar and not the seasoned one to make this recipe low sodium. Smash the ramen noodles while they are still in the packet.  Open the package and remove the seasoning packets. Heat some olive oil in a skillet. Add the dry noodles and sesame seeds. Roast them until they turn golden brown. Mix the chicken, chopped cabbage, and green onions in a bowl. Add the ramen noodles and sesame seeds. Add sugar, sesame oil, olive oil, and vinegar to a blender and pour the mixture into a separate bowl. Dress the salad with the dressing.
Conclusion
A healthy kidney diet plan significantly increases the effect of drugs. A diet can do wonders when it comes to any kind of health ailment. These recipes are a great way to taste delicious foods while also staying on par with the diet restrictions.