What does superfood actually mean? There is no real standard definition for a superfood; most organizations tend to define it as food high in antioxidants or some essential nutrients. But at this point, it is probably more accurate to say a superfood is just a food that has a surplus of any nutrient your body can make use of. Fruits and vegetables are typically considered superfoods for that reason. The best fruits and veggies will give your body more than enough nutrients in a single serving. Superfoods function best when served as close to raw as possible. The more you cook them, the more you tend to neutralize their inherent nutrients.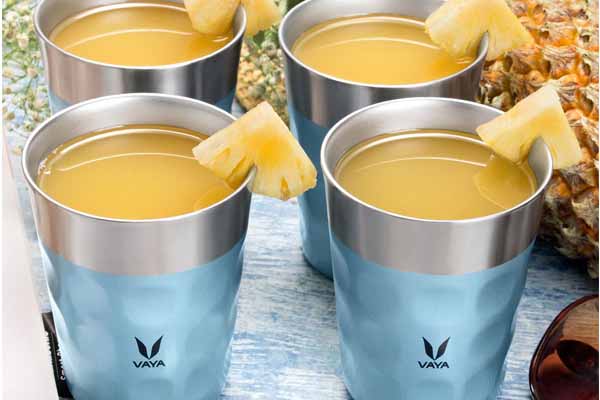 That's where the superfood smoothie comes into play. Smoothies are great ways to get the nutrients provided by consuming fruits and veggies without having to spend a lot of time actually eating them. Your body is also able to absorb the nutrients faster in liquid form than in solid form. Solids require a longer digestive time to break food down when compared to liquids.
Below are some great superfood smoothies that you can start making today if you have the ingredients, or tomorrow when you actually go buy the ingredients! Once you get used to drinking super healthy smoothies, you will absolutely never be able to stop! Here's a list of healthy and delicious smoothies that you can whip up and serve in an insulated tumbler
1. Green Smoothie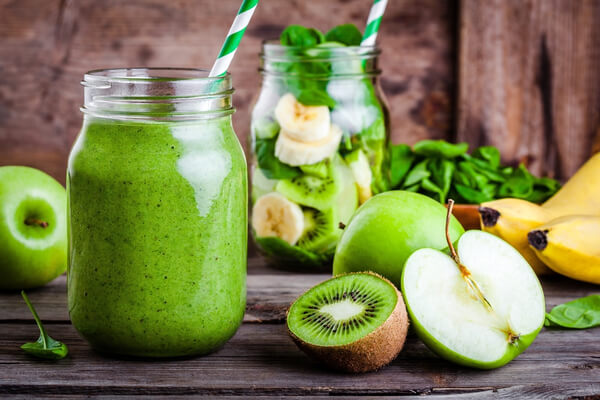 When you're talking health food smoothies, you can't avoid mentioning the classic green smoothie. It's a bit of a generic name, because there is no one specific green smoothie. Most green smoothie recipes simply call for you to choose your darkest, leafiest, green veggies you have and blend them with along with a few other veggies or fruits. The best veggies to use are kale or spinach; they'll definitely make sure your smoothie come out green. The best part about a green smoothie is how you get some rare vitamins and minerals that can be hard to come by otherwise. The best way to drink this smoothie is to just down it, but it can be a little bitter for some people. Adding in an apple or a few carrots can help in neutralizing the bitterness. Oh, drinking it a bit cold helps too! Whip up this healthy smoothie, pour it in an insulated tumbler, one that would keep it chilled until your last sip, and enjoy!
2. Healthy Chocolate Berry/Banana/Mint Smoothie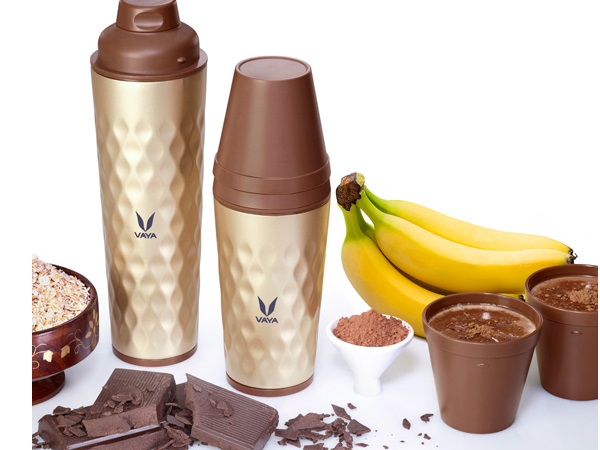 For many people, the biggest reason for drinking a smoothie instead of actually eating vegetables is that it tastes better. With smoothies, you can get many of the vitamins and minerals you expect from the fruits and veggies, and still enjoy the experience. This chocolate smoothie takes that concept to the extreme, because what is more enjoyable than chocolate? Cocoa powder doesn't just make things tastier; it also has its fair share of powerful antioxidants and is also a great source of dietary fiber. Now, you can make your chocolate smoothie healthier by adding in a banana or a few berries or a handful of mint leaves! This addition brings in a subtle flavor, the deliciousness of the newly added compound and makes the smoothie just way healthier than how much your regular chocolate smoothie is supposed to be! Whip up some delicious chocolate smoothie, pour it into an insulated water bottle, and you are all set for your morning jog around your block!
3. Pina Colada Smoothie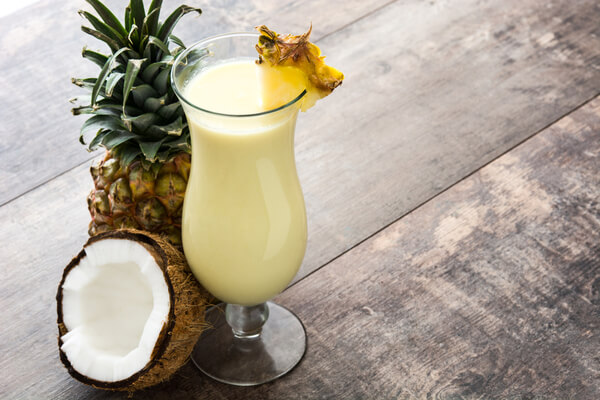 Love pineapples? Then, pina colada smoothie is perfect for you! The smoothie is basically a healthier version of your pina colada without alcohol and sugar. Pineapple contains quite a few powerful antioxidants that kill free radicals and give your immune system a much-needed boost. The only thing you have to watch out for when preparing this smoothie is that it can become a bit tart, thanks to the acidic profile of the pineapple. Try mixing in a natural sweetener, or if you're really bold, sprinkle in some pink salt. This smoothie tastes best when served chilled! As soon as you whip up this smoothie, pour it into a thermos flask so it will remain fresh and flavorful until it's time to drink it!
4. Pumpkin Pie Smoothie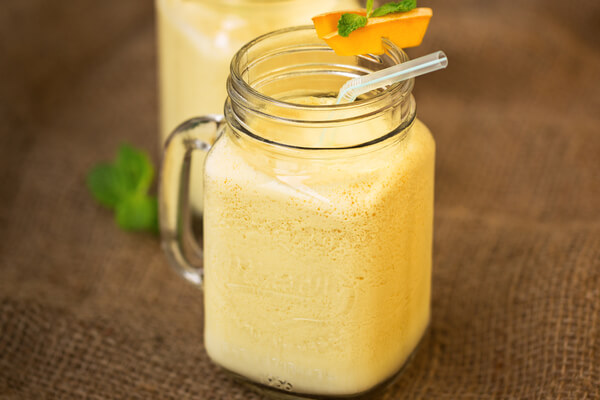 Love pumpkin? Pumpkin is one of the healthier foods you can include in your diet. If you are looking for a few fun recipes with pumpkin apart from your soup and regular Indian curries, then here's what you could try today! This pumpkin pie smoothie calls for a maple syrup sweetener and some almond butter which gives the smoothie a significant protein quotient. It works as a great after gym drink, but you can legitimately drink it any time of the day and it will be amazing while still doing wonders for your body. Just make sure you pour into a vacuum flask or an insulated bottle that would keep your smoothie fresh and flavorful!
5. Dragon Fruit Smoothie
If you're looking for an interesting superfood smoothie stands out from the rest of the health food crowd, look no further than this dragon fruit smoothie. Dragon fruit, also known as, pitaya is one of the more interesting fruits to look at, let alone eat. It's now available in most stores across the country! It has a fuchsia colored skin and white flesh. It also tastes quite delicious, making it a top tier choice for smoothies. Like most citric based smoothies, it has lots of antioxidants that will keep the cells throughout your body healthy by killing free radicals. The smoothie tastes delicious if served chilled!
6. Peanut Butter Cup Smoothie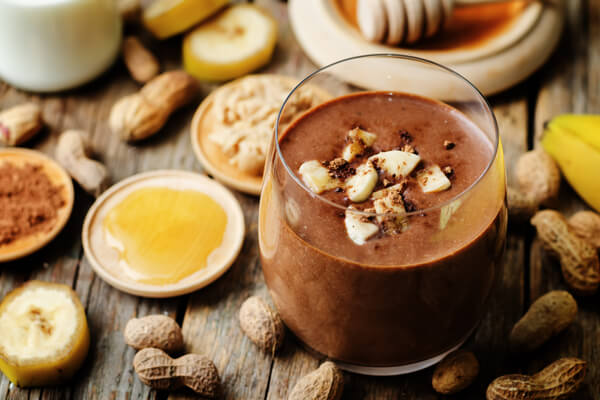 Back to the theme of smoothies that taste great but are also healthy for you. If you liked the chocolate smoothie, then this peanut butter cup smoothie will blow your mind. It basically tastes like you're drinking a dessert in a glass. And you don't have to feel bad about it because this dessert has lots of peanut butter in it. Peanut butter is an amazing source of protein and healthy fats, which is great if you like to hit the gym or are a physically active person. You need the protein that peanut butter has to offer to repair cells and handle physiological responses.
7. Tropical Turmeric Smoothie
Yes, adding spices to smoothies is the newest and greatest development in the smoothie world since it was figured out that chocolate works well in smoothies. Spices are packed with health benefits, so they're a great way to turn any smoothie into a type of superfood smoothie. Turmeric in particular is great because it has extremely powerful anti-inflammatory properties. And, it actually tastes really great, so you really have no reason not to invest in this smoothie. You can further improve on the turmeric's benefits by adding black pepper to the smoothie.
8. Strawberry Smoothie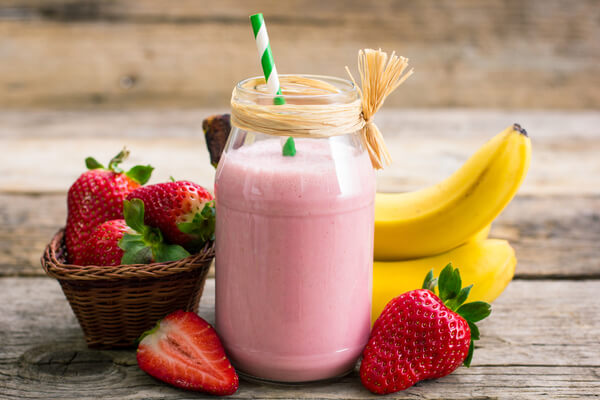 This is a great starter smoothie for those new to the world of superfood smoothie making. Strawberries are amazing health foods to invest in. They have lots of health benefits, including the ability to eliminate free radicals, regulate blood pressure levels, and help to induce sleep. The best thing about strawberry smoothies is they have such a low prep time. You don't have to use fresh strawberries to receive the health benefits; frozen strawberries work just as well and speed up the process significantly. You also don't have to add extra ice if the strawberries are already frozen. Make sure you serve this smoothie in an insulated tumbler glass, for it tastes best when served chilled!
9. Avocado Mango Smoothie
Maybe we should call this smoothie, the millennial breakfast? Most people love avocadoes and mangoes individually, and they taste even better when combined into one amazingly powerful smoothie. Not only does this smoothie taste delicious, but it also has massive health benefits. Avocado is a great source of omega-3 fatty acids and mango is one of the best vitamin C fruit sources. Together, this combination stands above its peers as the ultimate health food drink. This is also a great vegan smoothie because avocado has a natural creaminess to it that lets you avoid having to add milk. Whip up this smoothie when you are not in a mood for a regular brekkie! Make sure you pour this sumptuous smoothie into an insulated drinkware, so you can enjoy it fresh and chilled!
10. Mixed Berry Smoothie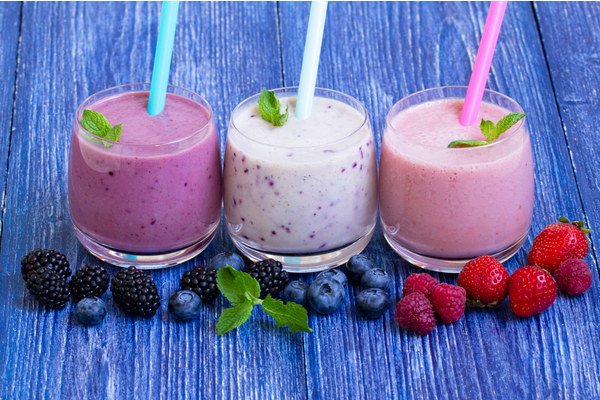 This mixed berry smoothie is a super simple smoothie recipe that you can prepare in literally less than a minute. It only has three real ingredients, milk/yogurt orange juice, and your favorite berries. All you have to do is toss them into the blender and you'll be sipping on a delicious and healthy smoothie in less than a minute. It's the perfect breakfast alternative for people who don't have a lot of time in the morning but still want to get their day off to a good start. If you don't want to use dairy products like milk or yogurt, you can replace the milk with unsweetened coconut milk or soymilk. A tall glass of mixed berry smoothie is all you need to get through your week day mornings!
11. Matcha Green Tea Smoothie
This should be a welcome surprise to all the matcha lovers out there. It is a known fact that people who love matcha, really, really love matcha! Matcha is a vivid green tea that comes in powder form. It is loaded to the brim with antioxidants that kill free radicals which can cause cancer and oxidative stress. It also has caffeine in it, the miracle compound that keeps you more awake and alert, and many of us cannot do without. This recipe calls for milk, but you can substitute it with any of your favorite dairy substitutes.
12. Banana Date Smoothie with Ginger and Cardamom
This banana date smoothie is the height of delectableness. You are definitely going to want to take your time preparing this smoothie. It is completely different than a typical breakfast smoothie which should normally have a quick prep time due to the fast-paced nature of breakfast. This is your treat yourself smoothie. You want to make sure the flavors are balanced, because each one is strong in its own right, and can overpower the other. Once you master it though, you'll want to treat yourself to it every day; not only are the ingredients amazing when mixed together, but each one has its own unique set of health benefits as well.
13. Coconut Mango Smoothie
This is the smoothie you drink to beat the heat and protect your body from heat stroke. It is as refreshing as it is tasty; the mango and coconut complement each other so well, that they must have been designed that way. Mangoes have a naturally high-water content, and coconuts have a high electrolyte content which help your body to retain water more effectively. And to top it all off, the entire concoction tastes like a dessert in your mouth. It's practically guaranteed that you'll feel guilty for drinking it, because nothing that tastes so good should be considered healthy – even though it is. It tastes great when served chilled, so make sure to pour it into an insulated flask so you can have a perfect coconut mango smoothie!
14. Blueberry and Spinach Superfood Smoothie
It's fair to say that the majority of people do not expect this interesting combination of blueberries and spinach, especially in a smoothie. But this combination is a real thing, and it not only tastes rather decent, but it's also filled with health benefits. Spinach is a great source of B vitamins and vitamin K. B complex vitamins help with cell growth and red blood cell production, while vitamin K helps with blood clotting and the regulation of blood calcium levels. The blueberries on the other hand are some of the most potent sources of antioxidants available.
15. Watermelon Smoothie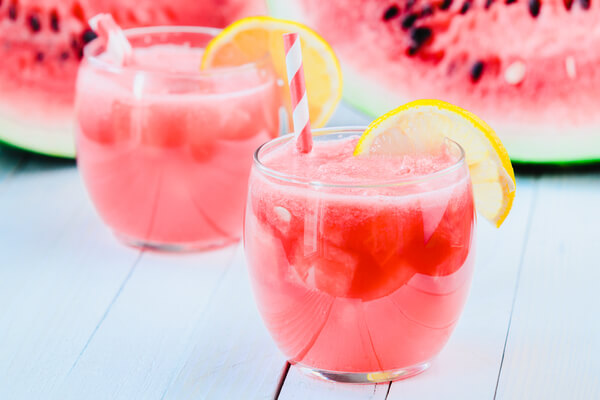 Finally, we have the watermelon smoothie. It is another option that is defined by its expediency of preparation and its simplicity. You can spice this recipe up using yogurt, vanilla extract, and some maple syrup, but realistically, all you need to make a good watermelon smoothie is some fresh watermelon and some ice. Frozen watermelon works even better, but you work with what you have. This recipe can only be improved upon, because it will taste great no matter what you do to it. Your watermelon smoothie will also help you stay hydrated for longer periods of time if you sprinkle in a little bit of salt.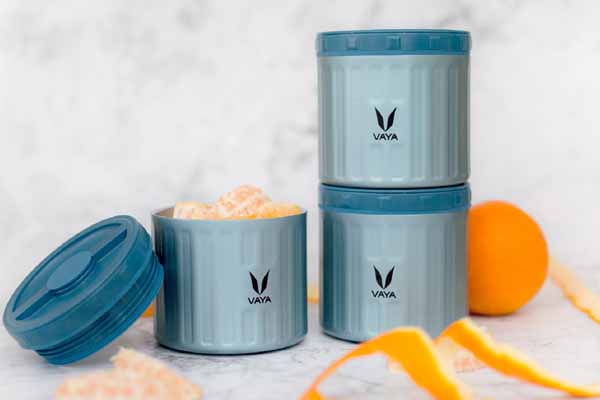 You can make any smoothie a superfood smoothie even if the primary ingredients are not superfoods themselves. The beauty of smoothies is that they work wondrously well with add-ons. There are lots of superfood ingredients you can add to the smoothie to up its superfood profile. Seeds are the best choice for this. Hemp seeds, chia seeds, and flax seeds can be mixed into the smoothie to make it healthier. They rarely change the taste and mostly only enhance it. They also provide texture to the smoothie which only serves to make it more interesting to drink. These superfood seeds are typically good sources of omega-3 fatty acids, protein, dietary fiber, calcium, and antioxidants. The best part is how you can store these seeds in an air-tight food storage containers, and you are all set for a smoothie add-on, one that would just make your day!