This pandemic has brought drastic changes in everyone's lives, and cooking is one of them. While cooking was a 30 minutes chore when you had to be off for work, work from home has provided you with extra time for a little experimentation. That being said, no one is talking about complicated dishes. The trick is to make something delicious yet simple. Then, you can easily store these dishes in a casserole or hot box for eating later. In case you are clueless, here are a few delicious and easy work from home recipes.
1. Tomato Pulao with Coconut Milk
This pot meal is a Tamil Nadu special, and it is tangy, a little spicy, and very nutritious. It is also an excellent lunch meal without having a need for any accompaniment with its rich flavors. Blend the coconut pieces with water and drain the mixture to extract coconut milk. Heat the pot and add whole spices and ginger garlic paste. Add chopped onions and sliced green chilies. Add tomato puree or chopped tomatoes. Next, add spices, mint leaves, and cilantro. Add basmati rice, coconut milk, salt, and water and stir well. Close the lid and let it cook. Serve warm from a casserole with some yogurt or raita!
2. Vegetable Pulao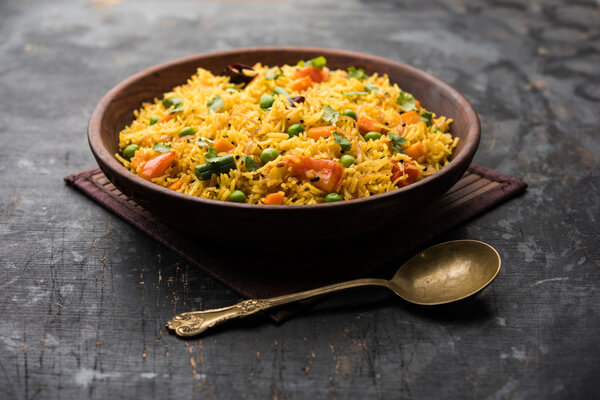 This Karnataka style vegetable is prepared with the goodness of vegetables. You can serve it with some yogurt and pickle for added flavor. Grind spices, coconut, mint, and coriander leaves with some water for a smooth paste. Add oil to a cooker and add bay leaves and sliced onions. Sauté till they cook before adding all the veggies. Next, add the mint paste, salt, and turmeric powder. After the whole mixture is cooked, add water and basmati rice. Your vegetable pulao is ready to be eaten! Garnish with some lime juice and cilantro.
3. Mushroom and Spinach Lasagna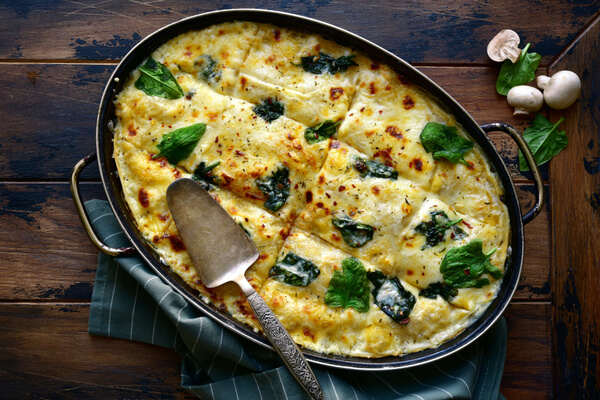 This recipe is perfect for a have-later dish. You can make it in the morning and have it easily at night. It stays fresh, and the oozing cheese doesn't disappoint! This recipe is a must-try! Heat a saucepan and add olive oil. Add garlic, onions, sliced mushrooms and sauté, followed by flour, salt, and pepper. Mix well and pour the vegetable stock, a little heavy cream and let the sauce thicken. Add parmesan cheese and spinach. Spread the mixture in a baking dish and top it with lasagna noodles. Finish it with the sauce and mozzarella cheese. Keep adding the noodles and sauce till you run out of them—place it in a preheated oven and bake. Top with parsley and store it away in a casserole or hot case. Heat before serving!
4. Cumin Rice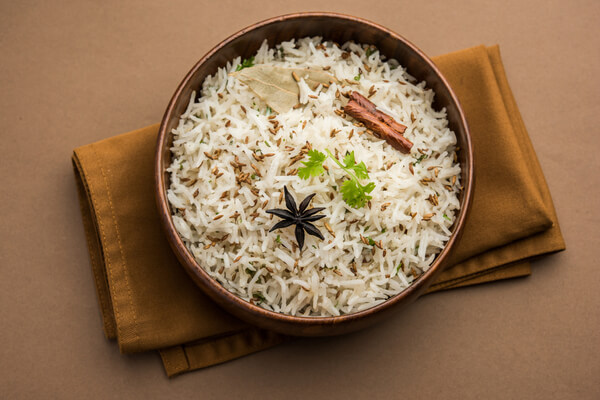 Cumin rice is a simple and flavorful one-pot meal to prepare. Serve it with some raita or any curry or lentil will taste great with it. This is a perfect meal for the weekdays you feel lazy to prepare an elaborate meal. Add ghee to a heated cooker and cumin, cloves, cinnamon sticks, cardamom, and bay leaf. Sauté for few seconds. Later add green chilies, water, salt, and basmati rice. Stir well and let it cook on medium heat. After it is cooled, garnish it with coriander leaves, and your Cumin rice is ready to serve!
5. Spinach Rice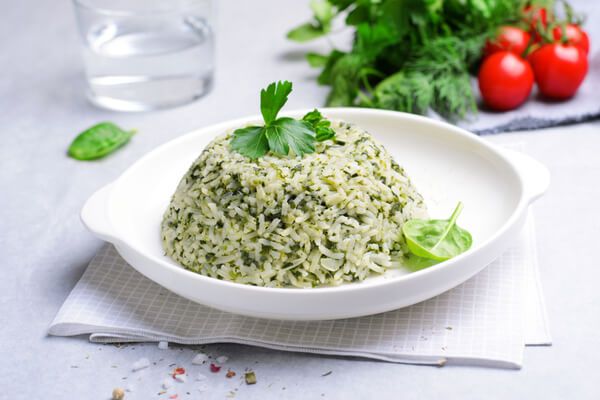 Spinach Rice is a one-pot, healthy meal that is both vegan and gluten-free. You can prepare it in a jiffy and store it in a casserole without a worry about the freshness. Everyone will love it!  Add oil to a heavy bottom pan, cumin, cashew nuts, whole spices once the oil is hot. Put the green chilies, ginger-garlic paste, and sliced onions in the mixture. Add tomatoes and cook until its soft, then add the green peas and spinach leaves, coriander leaves, lime juice, masala powders, water, and rinsed basmati rice. You can serve it with yogurt, or any lentil and curry will taste great with it!
6. Lemon Rice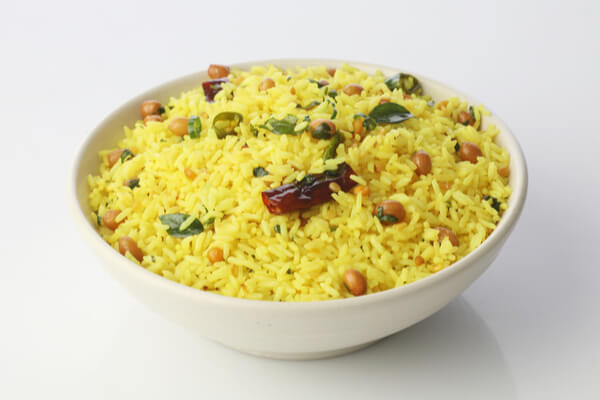 A tangy south Indian recipe, this is one of the quickest one-pot meals you can fix. You can either make it with lemon juice or tamarind juice. You don't need anything to pair it up with. To make this recipe, heat a pot and add oil or ghee. Once it is hot, add the urad dal and chana dal. Once they turn brown, add curry leaves, asafetida, green chilies, mustard seeds, and ginger. Later add turmeric powder, salt, water, and basmati rice. Stir well and allow the rice to cook. Once cooked, garnish with lemon juice or tamarind concentrate, roasted peanuts, and coriander leaves! Serve hot.
7. Creamy Chicken Marsala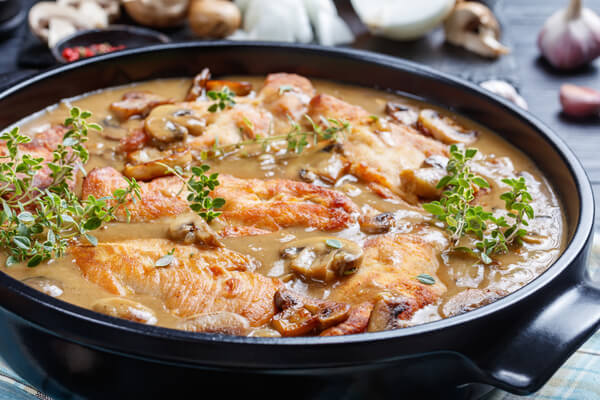 It just takes only 5 ingredients to make this tasty dish! Prepare it on a weekday morning and store some in a hot case for the night, too. Slightly flatten the chicken breast with a rolling pin. Season the chicken with pepper and salt liberally. Heat a skillet and add butter. Once it melts, add the chicken and let it cook on both sides. Keep the chicken aside and add some more butter to the skillet. Add mushrooms and let it cook until it turns soft. Add the marsala wine, salt, heavy cream, and chicken. Let it cook some more. After the sauce has thickened, garnish with some coriander leaves or cilantro leaves. Season with pepper and salt and serve hot!
8. Coconut Rice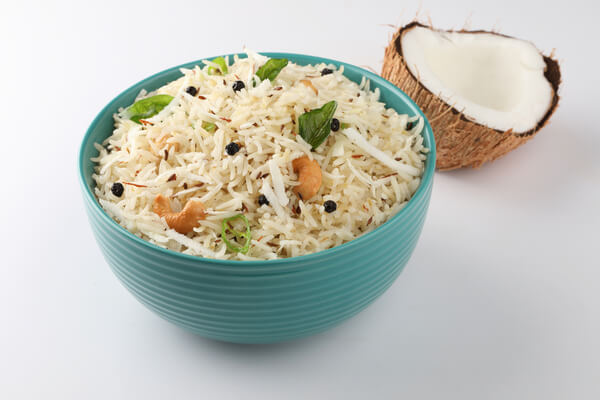 Coconut rice is a popular south Indian pot recipe that is wholesome and gloriously delicious. It is a quick and easy recipe for all those packed weekdays. It is gluten-free and vegan. Blend shredded coconut with water and strain it. Add oil, green chilies, whole spices, bay leaf, curry leaves, and ginger-garlic paste in a pot and start cooking. Next, add onions. Let it cook before adding vegetables, basmati rice, coconut milk, salt and water, and stir well. Serve hot with raita!
9. Chicken Biryani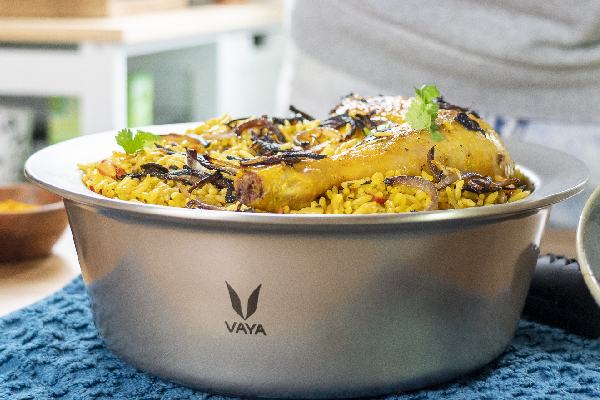 The mention of chicken biryani might have your forehead creasing, but this is a rescue recipe, and it won't take you more than 30-45 minutes to prepare. Do the pre-preparation and load everything into your pot, and you're good to go! Wash the rice, add salt, and soak in some tepid water for a while. Add the rice with enough water to a pan and let it cook. Now heat oil in a frying pan and add garlic, ginger, shallots, onions, chicken and stir fry. Later add all the spices and yogurt. After it is cooked, add the partly cooked rice, some sugar, and raisins and cook for some time. Your chicken biryani is ready for serving!
10. Ghee Rice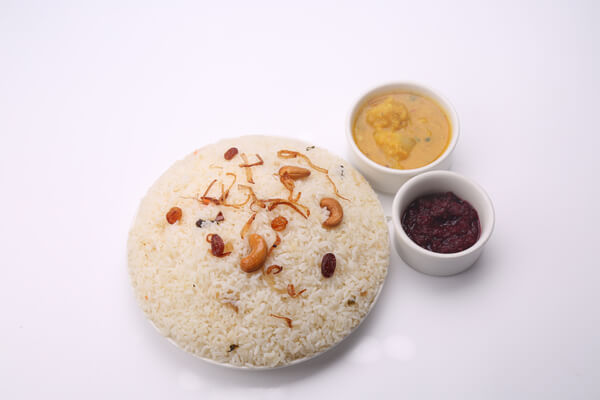 The smell of ghee is mouth-watering, and making this recipe will have everyone in house scurrying to the dining table! Serve it with any veg curry or lentil to add flavor. Heat an instant pot or cooker and add the clarified butter to it. Once hot, add cloves, cardamom, bay leaf, and cinnamon sticks. Add chopped raisins, grated ginger, green chilies, and cashew nuts. Sauté well and add sliced onions. After the onions turn soft, add basmati rice, salt, and water. Stir well and let the rice cook for another few minutes. Fluff the rice and garnish with raisins and cashew nuts. Your ghee rice is ready to be served!
Conclusion
Work from home cooking doesn't have to be complicated, and these recipes above are proof! Try making them, and you are bound to get addicted to some of them. They are both comfort food, with every bite being delicious. Happy cooking!