Introduction
The morning breakfast is of utmost importance, as that is the first meal you have before you begin your everyday routine. If you skip your breakfast or have something unhealthy, then there is a good possibility that you will end up being sick for the rest of the day. In order to do away with the possibility of having a bad day, here is a list of 10 healthy breakfast recipes that you can make and start your day with!
10 Super Healthy Breakfast Recipes That You Can Try
1. Oatmeal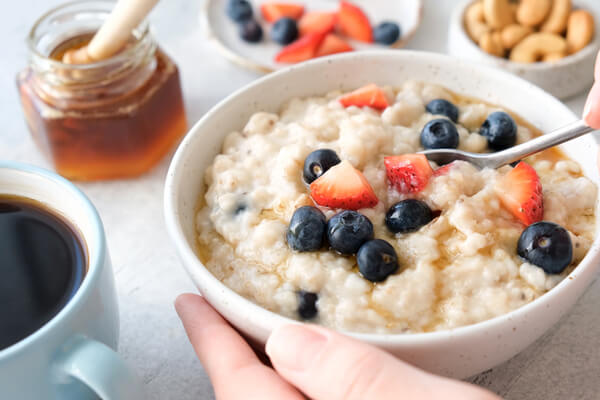 On nights when you are under the pressure of a ton of work and know for a fact that a good night's sleep is not on the cards, play a trick. The trick is to make your breakfast in advance so that you can at least have a few extra minutes to dreamland. In a mason jar or an insulated food containers, add rolled oats and fill it up half with almond milk. You can add some strawberries, mangoes, chia seeds, pumpkin seeds, or anything that you feel like for the toppings. Lastly, add some cinnamon powder and seal the food jar. The next morning, all you have to do is open the jar, add a sweetener, and start eating!
2. Brown Rice Idli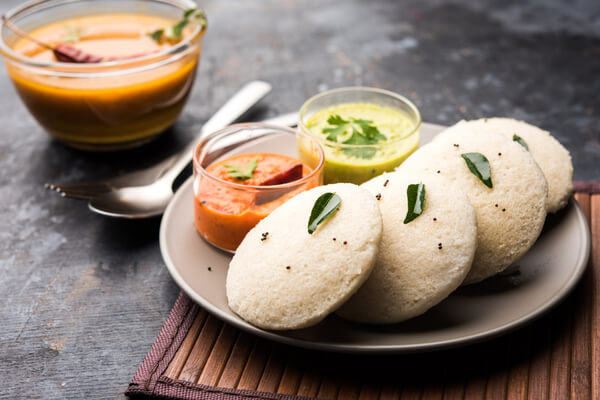 This is a quick, easy and super healthy recipe that you can pretty much have every day. Wash and soak brown rice, urad dal, fenugreek seeds. Put them in a blender and add some poha into it. Blend till you get a smooth paste. Let the batter ferment for 6-7 hours, and then make your steamed idlis using this batter. Keep it in the fridge, and you can use the batter for three days. Have it with sambar or some coconut chutney! 
3. Upma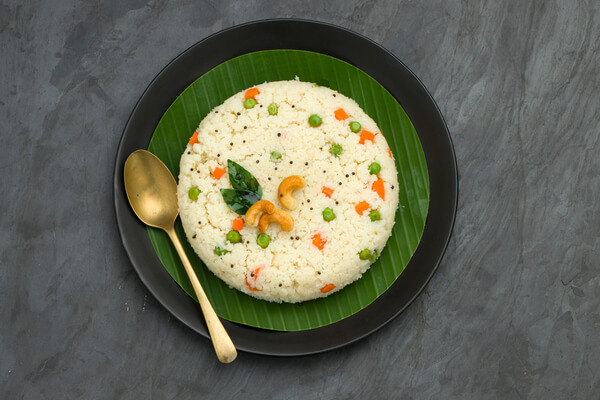 Making upma is pretty simple and will keep you full at least for the next 3-5 hours. The recipe requires very little oil and is full of vegetables. So, heat a pan with oil, and add mustard seeds and curry leaves, then add the vegetables that you want to have. Toss and turn for a few minutes and then add a pinch of turmeric followed by roasted semolina. Then add water as required. Cook it for a few minutes, and you are good to go! You can also add some crushed peanuts and store it in a hot box or casserole and serve it warm.
4. Semolina Toast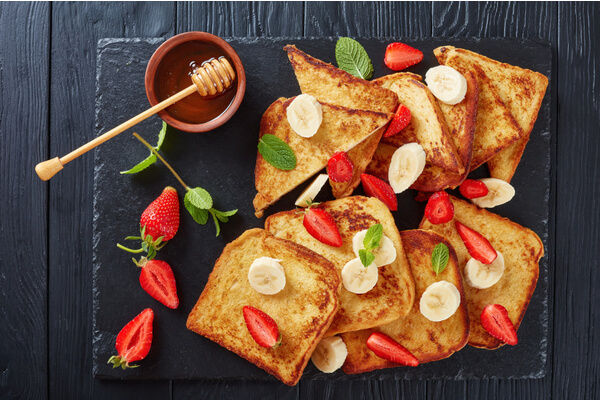 This recipe requires some hard work early in the morning, but it is as tasty as it can be. Start by preparing a batter using equal parts of curd and semolina. Then take some bread and dip it in the batter. Heat a pan with some oil, and fry the bread on one side and add your vegetables on the other side. Once the edges turn golden, flip and cook it on both sides. Adjust the salt, and your meal is ready. You can make a batch for your family breakfast as well and store them in a casserole.
5. Dosa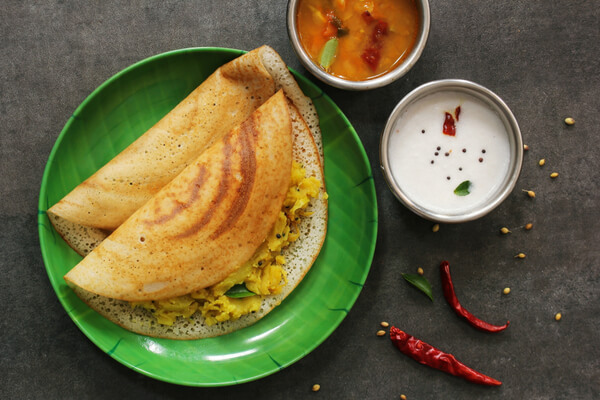 If you are thinking about what to do with the leftover idli batter, then just make some dosa with it! The brown rice in the batter is super healthy as it maintains bone health, provides antioxidants, and helps digestion. Make your dosa crispy and have it with some hot sambar!
6. Sandwich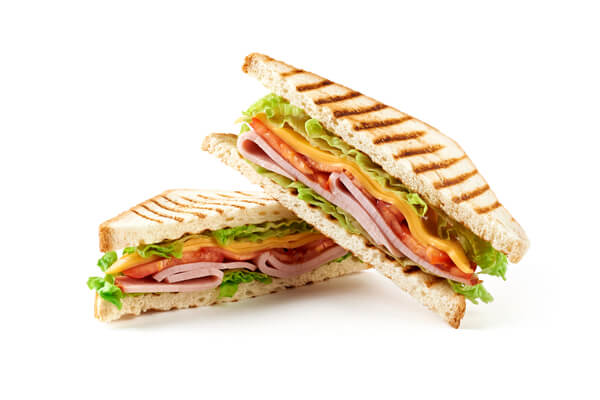 A good hearty breakfast makes it easier to glide through the day without any hurdles. To kickstart your mornings, make a sandwich- take a load of multigrain bread, and add a layer of veg mayo, followed by some lettuce, cucumber, tomatoes, olives, and all the vegetables that you think will go with your sandwich and your bed. You can also add protein to your sandwich and make it extra healthy. Light roast the sandwich on a pan or just press it in a sandwich maker. 
7. Pesto Pasta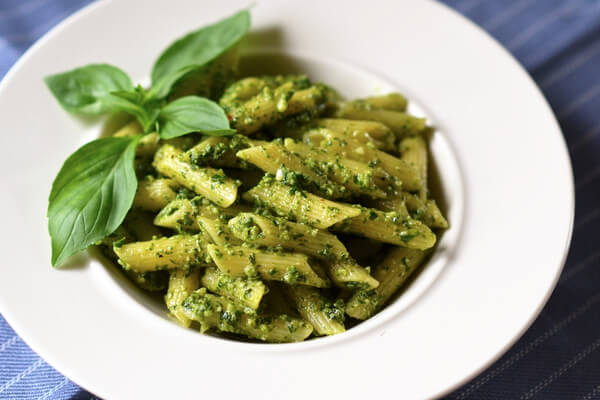 If you want to feel super fresh, then try out something with pesto sauce. Pasta is just an ornament when it comes to Pesto. So, if you want to get the Pesto right, then in a mixer, add a handful of basil leaves, walnuts, ginger, chilli flakes and olive oil. Blend it till it becomes a smooth paste. Since your pesto sauce is now ready (yes, it hardly takes 2 minutes), you can just boil some pasta and roll your pesto sauce in it!
8. Savoury Oats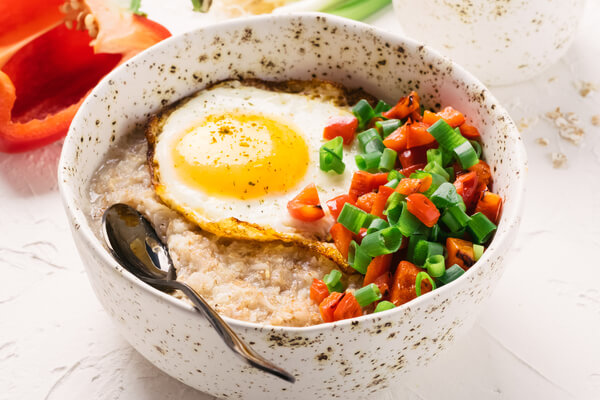 Who said that you could only have sweet oats? No one did, so make yourself some savoury oats for breakfast. This recipe takes hardly 10 minutes, so chop all your veggies and fry them in a pan; season with some salt and pepper. Then add the oats into the pan and fill it with water. Let the oats cook for a few minutes, and when it has soaked most of the water, add some scrambled eggs or fried cottage cheese!
9. Avocado Toast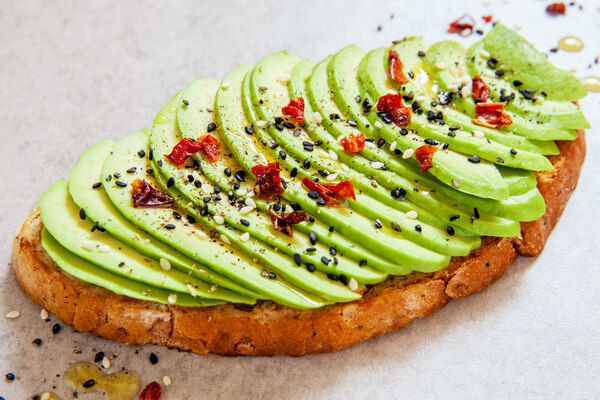 Two slices of bread, some pesto sauce, sliced or mashed avocado are the basic ingredients that you need to make your quick avo toast. You can be creative with your seasoning and can also choose to add a protein element. Avocados are nutrient-rich, and they are good for the heart, works wonders for depression and are also great for vision. 
10. Multigrain Chia Waffles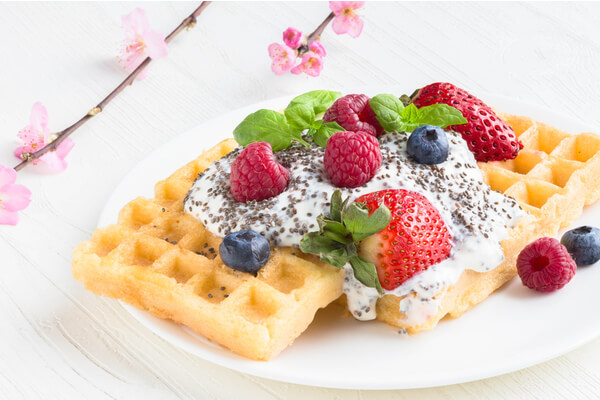 If you have a waffle maker, then this recipe is going to win you over. To make the batter in a bowl, take some almond milk, chia seeds, vanilla extract, oats, flour, baking powder, salt and sugar. Rest the batter for a few minutes, and then scoop it out in a waffle maker. Have your waffles hot with some bananas & strawberries, or just drizzle maple syrup!
Conclusion
These are a few out of the box, super-healthy recipes that you can make for breakfast almost every day. Feel free to add your own healthy touch and tweak the recipe as long as it is fulfilling and delicious. On days when you are running short of time, just make sure that you grab something from your kitchen in a hot case or casserole so that you can eat it warm come lunch time!