A new school year brings with it excitement and anxiety. Kids are excited as they will get to meet their old friends, make new ones, lots of buzzing activities, and a whole new routine! Parents constantly seem anxious, there is so much back-to-school shopping to get done in so little time.
Covid-induced lockdown has made online shopping the new normal! Online shopping is a socially accepted tradition now, and it comes with its own merits.
Shop for Back to school supplies online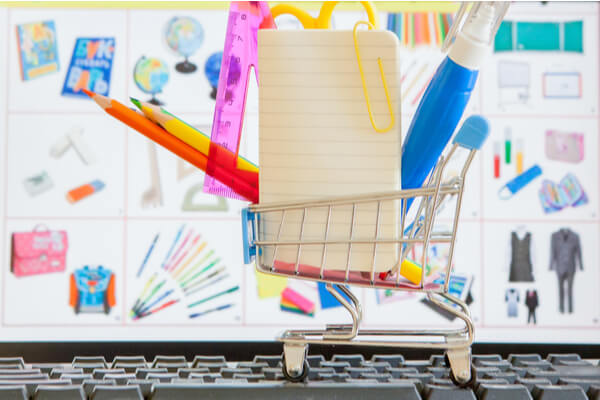 1.Work on a list
Spend time with kids brainstorming on what they will need. Every school lists out the essential school supplies kids will need for another school year. But that's not all, you might have to add to this list personal gear that kids will need for a whole school year.
2.Do your own research
This is the time of the year that several brands are running offers and deals on kids supplies. Impulse purchases do not work when it comes to kid's school supplies. It immensely helps when you do your research on what will work and what will not for your kids!
3.Add to Cart
This is the fun part! No rush, no queue, and definitely no stress of shopping in a mall or a physical outlet. With a detailed shopping list, know-how from your research, young and eager shoppers by your side, you are all set to add items to your cart!
4.Pay with a swipe and click
A minute is all you will need to get through the payment gateway once you complete shopping! Cherry on the top is the exciting offers from your bank on your credit/debit cards, more often than not!
5.Bask in the happiness
When your phone pings with the message 'Your order has been shipped', it's time to sit back and relax, for your order to be delivered at your doorstep!
Hogwarts or muggle school, shopping for school supplies could be a drill for parents across the world. Fascinatingly, kids don't think so! Have a chat with them and you will know the enormous effort they have put into a list! This also becomes a moment for parents to reminisce about all the summers they spent shopping for their school year. School bags sporting Shaktiman, who unknowingly helped in shaping the personality of an entire generation, and lunchboxes sporting Tom and Jerry were a favorite among kids even back then!
Shaktiman to Chota Bheem and Ducktales to Doraemon, the school bags and lunchboxes have changed a lot over these several decades. However, what hasn't changed much is how parents always gravitate towards the best when it comes to shopping for their kids! And, here' s a list that will make shopping for back-to-school gear a breeze –
Essential School Supplies: Bags for young scholars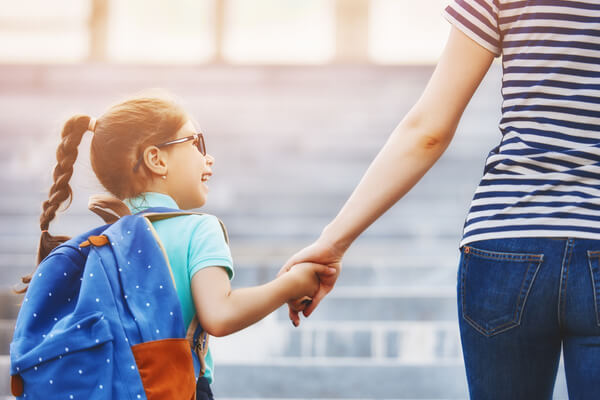 In elementary or kindergarten, kids need a school bag that is comfortably sized for books, and compartments for note books and stationeries. A bonus point, if they come with a sturdy water bottle pocket too! Here are a few pointers you might have to take into account while buying a school bag!
1.Fabric
Bags with sturdier fabric and quality zippers are great for holding up every day wear and tear. Investing in good fabric will ensure you don't have to worry about the bag until the next school year. Sturdier fabric also means, they can be frequently washed and sun dried when required!
2.Designs
There are school bags that come in vibrant and classy colors. Bright colored bags don't just look cool, but are great to hide food or water stains!
3.Comfort
Choose bags that come with broad shoulder straps. Bags with plush padded shoulder straps are comfortable to carry, and the broad shoulder straps also help in distributing the weight evenly.
4.Size
Choose a size that is neither too big nor too small. This can be assessed better when you have the books list from the school. Irrespective of size, choose a bag that comes with several compartments. It allows kids to be better organized. Separate small pockets or compartments for pencil box or pouches, a snack box and handy diary helps them easily access school supplies when necessary.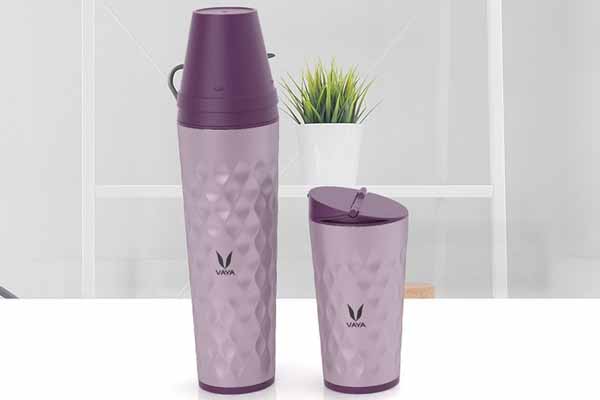 Water bottles fare high on most shopping lists ever made. When it comes to a school supplies list, it tops the chart! From slim and sleek to squeezy pouches, water bottles are available in several shapes, sizes and textures! However, it is important to choose a water bottle that is perfectly sized, safe and easy to use for kids. Here are a few pointers to keep in mind when shopping a water bottle for kids
1.Size
For kids in higher grades, a 600 ml or1000 ml bottle works well. For kids who are in kindergarten and spend only a few hours away from home, a 350 ml bottle works well. A bigger size bottle can at times become heavy to handle and carry, making it hard for kids. Choose an appropriate size that your kids can easily handle.
2.Make
Plastic bottles are not safe because they leach chemicals into whatever is stored inside. Stainless steel thermos is the best option for kids because they are durable, safe, and come insulated. Insulated bottles are great for hot water, cold water and even a juice or energy drink like Horlicks.
3.Design
Kids love vibrant colors, textures, patterns, and everything that's beautiful and a whole lot of fun. Choose a bottle which reflects your young kid's personality. There are a variety of bottles available in fun colors, and with patterns like Unicorns, Peppa Pig, or even Mickey mouse!
4.Convenience
When it comes to choosing the best bottle for your kids, there are chances that you will be overwhelmed. Tupperware, Milton and Cello, the number of brands coming with different types of bottles are too many. However, there is no one-bottle-fits-all solution when it comes to convenience. Kids find a bottle handy when it is easy to open and close, easy to sip, leak resistant and easily fits in the bottle pocket of the school bag. But that's not all. Also choose a bottle that comes with a wide mouth for easy loading and cleaning, a spout that's covered and hygienic and an interior that's safe to use!
School Supplies: Lunch Box that rocks keeping food from home hot!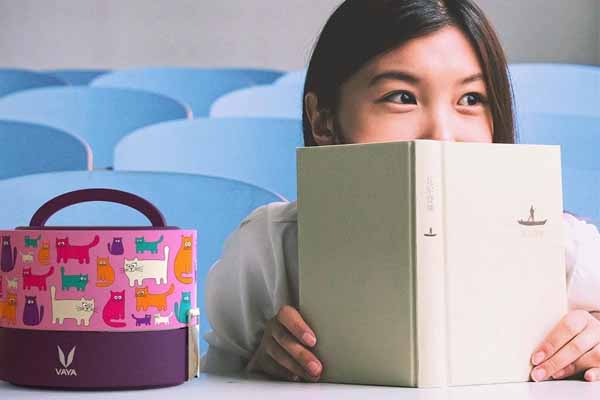 A new school year definitely means a new lunchbox, one that your child is excited to carry around and eat from. A lunchbox that packs food made with love and a dozen other ingredients and retains the warmth, flavour and aroma! A lunchbox that doesn't leak, keeps the roti soft and the salads crunchy. A lunchbox that comes with partitions and looks absolutely stunning! Here are a few features that when present in a lunchbox make it an accessory that your kid will take pride in carrying along!
1.Size
Roomy, compact and mini, lunchboxes are available in various sizes. There is no one-size that fits all appetites when it comes to a midday meal, and so it is for a lunchbox too! It is important to choose a lunchbox keeping in mind your child's appetite, the number of hours he will be away at school, and their meal requirements.
2.Make
In a market filled with Vaya, Milton and Borosil lunchboxes, choosing a perfect one could become a bit overwhelming. However, stainless steel lunchboxes are the safest bet when it comes to kids' lunchboxes, because they deliver in terms of performance, style and convenience. Here are a few reasons why a stainless steel Tyffyn is the best for kids –
Durable – Steel tiffin boxes are sturdier, and easily last for a longer time.
Safe – Unlike plastic tiffin boxes that have the risk of leaching chemicals into food, stainless steel is absolutely safe. When it comes to kids, safety is definitely utmost priority.
Insulation – Modern steel lunchboxes that are insulated can retain the warmth of food for about 5 hours. It is a struggle to make kids finish their lunch, and a lunchbox that keeps food hot and flavourful is definitely a perk.
Design – Plastic tiffin boxes had a huge fan base specially among kids because of the vibrant colors and patterns they came in. With steel lunchboxes permeating premiumness in exciting colors and patterns, they are the fastest selling in the Amazon lunchbox vertical!
3.Convenience and other factors
There are a few factors that make a lunchbox stylish and handy taking it up a notch higher from being just functional!
Easy to compartmentalize – A set of removable partitions so the lunchbox can accommodate a few special dishes on a few special days.
Easy to clean – An easy to clean lunchbox is definitely a convenient one. Plastic lunchboxes are not stain resistant. They can hold stains and flavour of a meal even after washing. A stainless-steel lunchbox definitely scores high when it comes to ease of cleaning. Unlike plastic, it doesn't stain and neither does it retain the flavors. A gentle scrub with a mild detergent is all that is required!
Leak Resistant – It is important that the lunchbox you choose is leak resistant. Accidental leaks and spills might be hard on kids.
Easy to accessorize –It's better if lunchboxes come as a package, with a lunch bag, a cutlery set and so on!
When it comes to essentials like lunchboxes and water bottles, there are labels like Vaya winning over parents with performance, and kids with absolutely gorgeous colors and patterns!
Cutlery Set in Just the Right Size for Kids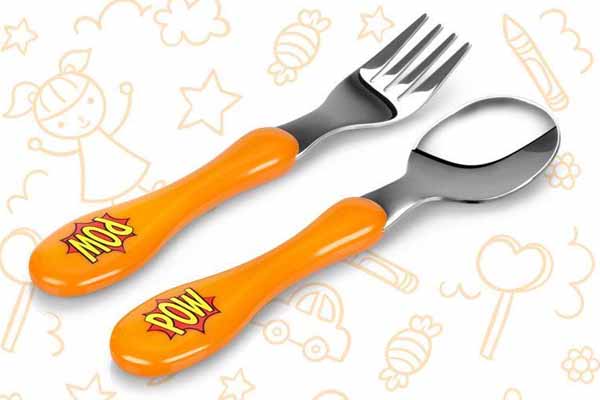 More often than not, parents spend a lot of time on choosing a lunchbox, but miss out on choosing appropriate cutlery sets for kids. With easy-to-grip handles and rounded edges specially designed for children, a kids' cutlery set can make any midday meal more exciting. Brownie points for the kids spoon and fork sets that come in fun designs and bright colors that get your kids excited about their next meal for the day!
Uniform/Clothes/Socks and shoes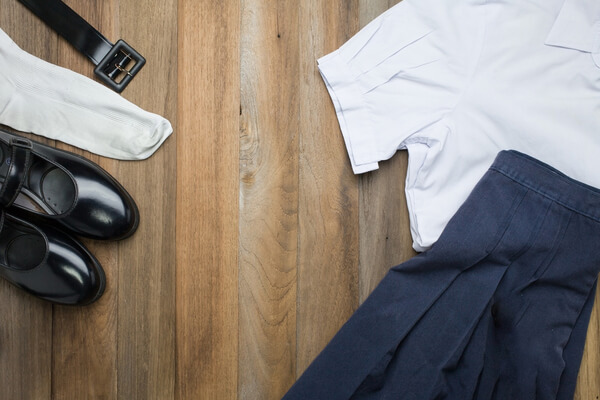 Schools let you know by the end of the term about the requirement of uniforms, sports clothes and other accessories. A day of shopping and you can be done with shoes, socks and also take care of the uniform too! When it comes to socks, it is always good to remember how children love color and texture. Keeping comfort as priority, choose a few pairs of textural socks that are also soft to the touch!
School supplies: Stationery and Craft Supply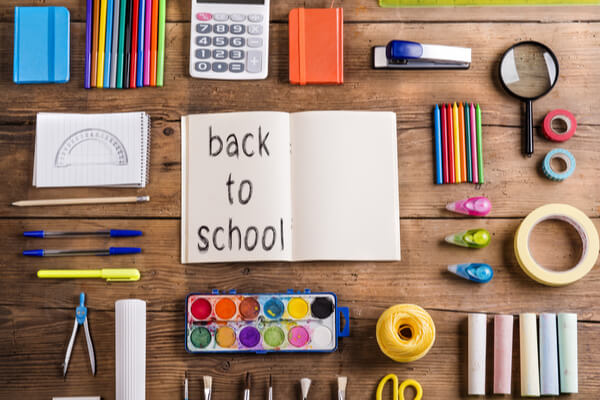 Apart from books, ruled/unruled notebooks, Kids also need a pencil box/pouch to hold all the stationery in one place. Pouches made of stain-resistant fabric are trending, even if a pen or highlighter accidentally leaks, there won't be a stain. Choose pens/pencils that not just write smooth, but also come with a comfortable grip. A few things you will have to be shopping as part of basic supplies are –
Dozens of pencils/pens
Sketch pens
Art and Craft supplies
Erasers
Sharpeners.
School Supplies: Miscellaneous Items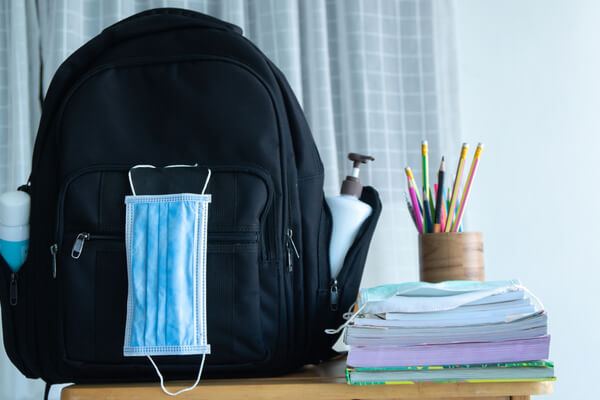 The list from school does not always cover all that your child will need while at school. Here are a few miscellaneous items you will have to shop –
Portable mini hand sanitizer – Choose one that your kid can hang on to his or her backpack, to keep the germs at bay!
Napkins/A small pack of tissues/ handkerchief –This is quite important to wipe the dirt off kids' hands and faces
An extra pair of clothes – This, if kids are in kindergarten. They might need to change after an accidental spill.
Kids like to look their best. Right from their uniform to school bag, lunchbox, water bottle and shoes, they like to sport colors, fun prints and patterns! While you shop, make sure you add to your cart only the items that function fabulously well and also hit the mark on (kids-approved) style! Happy Shopping!