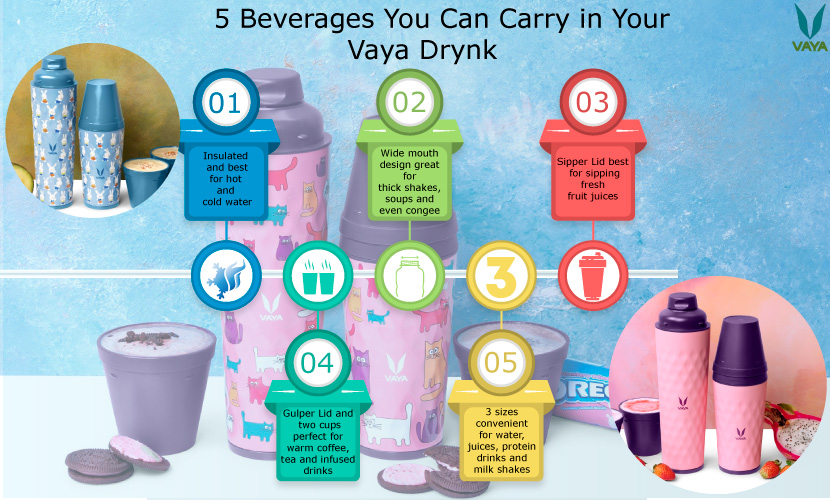 Cold and hot water aside, there are many beverages and drinks that can be carried in your Vaya Drynk. Rain or shine, the insulated water bottle can put to its best use in every weather condition. Made of stainless steel and equipped with VacuTherm insulation, the water bottle works well as a flask keeping your beverages warm and drinks cold. Drynk is available in 3 convenient sizes –
350 ml Drynk – Perfect for a glass of coffee, tea or even juice, the 350 ml water bottle also works well as an everyday water bottle.
600 ml Drynk – Perfect for office, travel and even gym, the 600 ml water bottle is great for everyday hydration.
900 ml Drynk – Great for your hot and cold water, the 900 ml water bottle is all you need to stay hydrated whilst you step out of your home or in your home.
Drynk comes with the option of 3 lids –
Sipper Lid – Perfect for sipping juices, water and even infused water.
Gulper Lid and two cups – Amazing for chugging great and the cups are great for sharing a cup of warm coffee or chilled juice with a friend
Globe Lid – Trendy, the lid is great for chugging water.
Are you Putting Your Vaya Drynk to Best Use? Let's find out the different types of drinks and beverages you can carry in your stainless steel water bottle!